About the Program
Starting from the August 2023 semester, the School of Chemical Sciences (SCS) at IIT Mandi offers a 4-Year Bachelor in Science (BS) program with Optional 1-Year Masters (MS) in Chemical Sciences. This program offers a unique opportunity to opt for minors in engineering and humanities disciplines, such as Computer Science & Engineering, Communication Engineering, Management, German Language, etc. Students also get an option for specialization in various branches of Chemistry, such as Organic, Inorganic, Physical, and Materials Chemistry. The state-of-the-art curriculum of the program offers research experience at the BS and MS levels in cutting-edge research areas in Chemical Sciences.
Uniqueness of the Program
The BS-MS program offers options for specialization in chemistry branches as well as minors in engineering and humanities branches and is highly research-oriented, which makes the program one of its kind. Particularly, it offers,
• Option for specialization in major chemistry branches, organic, inorganic, physical, and material chemistry through discipline elective courses in the 3rd and 4th year of BS.
• Option for minors in different branches including Computer Science Engineering, Communication Engineering, Electronics Engineering, Measurement and Instrumentation, Management, German Language, etc.
Due to the project-oriented nature of the program, the graduates get good exposure to projects in the desired area as early as in their 4th year of the BS program. In addition, the 5th year of MS is primarily research-focused with specialized theory courses.
Career Prospects
The BS-MS Chemical Sciences program graduates will have placement opportunities in various technology companies, chemical & pharmaceutical industries, and PSUs. In addition, after completing the MS, they will have the opportunity to pursue an academic and research career in a specialized field.
Admission Procedure
The admission is through Joint Entrance Examination (JEE Advanced) after the 10+2 level.
Duration
BS: 4 years, minimum 8 semesters
BS-MS: 5 years, minimum 10 semesters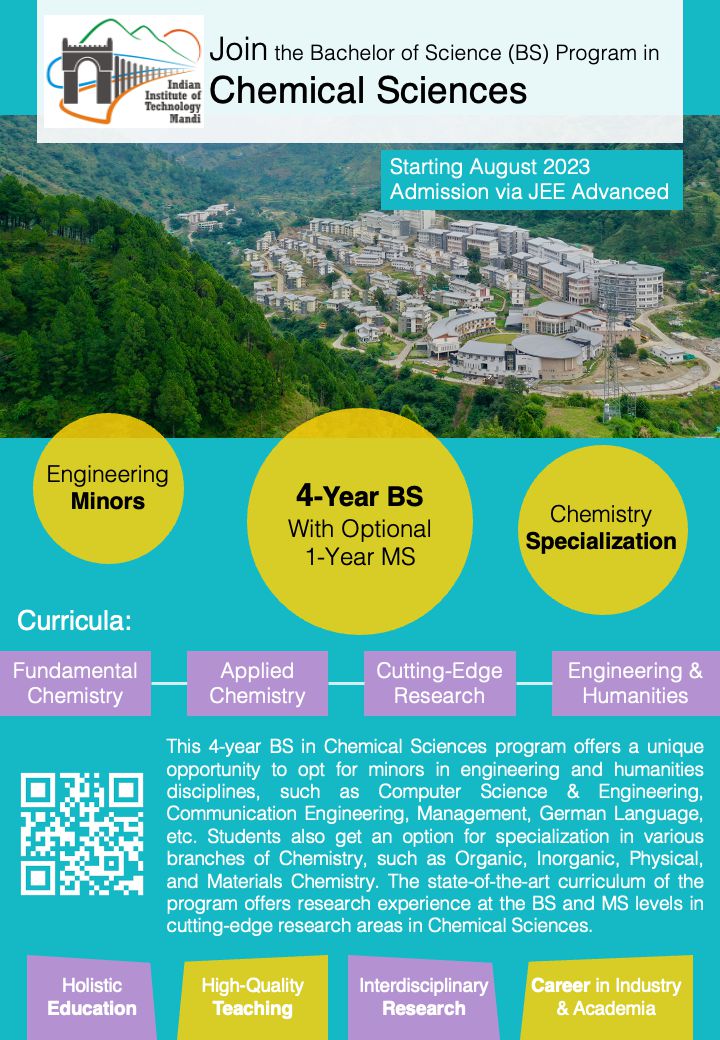 Semester-Wise Course Distribution
1st and 2nd Year (Total Credit: 84)
Semester-I (21 Credit)
Course Name
 

Math-I: Calculus (IC)
Math-II: Complex Variable and Vector Calculus (IC)
Engineering Graphics (IC)
Introduction to Python and Data Science (IC)
IC-I Basket (IC136 Compulsion)
HSS Course (HSS, Basket)
IKSMHA (IKS)

2
2
4
4
3
3
3
Semester-II (22 Credit)
Course Name
 

Math-III: Linear Algebra (IC)
Math-IV: ODE & Integral Transform (IC)
Applied Electronics (IC)
Applied Electronics (IC)
Probability and Statistics (IC)
IC-II Basket (IC121 Physics Compulsion)
Foundations of Design Practicum (IC)
Physics Practicum (IC)

2
2
3
2
4
3
4
2
Semester-III (20 Credit)
Course Name
 

Introduction to Chemical Sciences (CY)
Physical Chemistry-I (CY)
Basic Organic Chemistry (CY)
Principles of Inorganic Chemistry (CY)
Discipline Elective I (DE)
Physical Chemistry Lab (CY, Lab-I)
HSS Course (HSS Basket)

3
3
3
3
3
2
3
Semester-IV (21 Credit)
Course Name
 

Discipline Elective II (DE)
Physical Chemistry-II (Quantum & Spec.) (CY)
Analytical Chemistry (CY)
Discipline Elective III (DE)
Organic Chemistry Lab (CY, Lab-II)
Inorganic Chemistry Lab (CY, Lab-III)
HSS Course (HSS Basket)
Free Elective I (FE)

2
3
3
3
2
2
3
3
3rd and 4th Year (Total Credit: 79)
Semester-v (19 Credit)
Course Name
 

Organic Reactions & Mechanisms (CY)
Chemistry of Main Group Elements (CY)
Advanced Quantum Chemistry (CY)
Discipline Elective IV (DE)
Physical Chemistry Laboratory (CY)
Inorganic Chemistry Laboratory (CY)
Research Literature Presentation I (P)

3
3
3
3
3
3
P/F(1)
Semester-VI (19 Credit)
Course Name
 

Photochemistry & Pericyclic Reactions (CY)
Chemistry of Transition Elements (CY)
Symmetry and Group Theory (CY)
Discipline Elective V (DE)
Discipline Elective VI (DE)
Organic Chemistry Laboratory (CY)
Research Literature Presentation II (P)

3
3
3
3
3
3
P/F(1)
Semester-VII (21 Credit)
Course Name
 

Discipline Elective VII (DE)
Chemical & Statistical Thermodynamics (CY)
Introduction Organometallic Chemistry (CY)
Free Elective II (FE)
Free Elective III (FE)
Undergraduate Research Project I* (P)

3
3
3
3
3
6
Semester-VIII (20 Credit)
Course Name
 

Reaction Dynamics, Kinetics & Catalysis (CY)
Heterocyclic Chemistry (CY)
Discipline Elective VIII (DE)
Free Elective IV (FE)
Free Elective V (FE)
Undergraduate Research Project II* (P)

3
2
3
3
3
6
*Undergraduate Research Project is optional with the Discipline Electives (DE)
5th Year (Total Credit: 38)
Semester-IX (19 Credit)
Course Name
 

Discipline Elective IX (DE)
Postgraduate Project - I (PGP-I)

3
16
Semester-X (19 Credit)
Course Name
 

Discipline Elective X (DE)
Postgraduate Project - II (PGP-II)

3
16