Faculty Information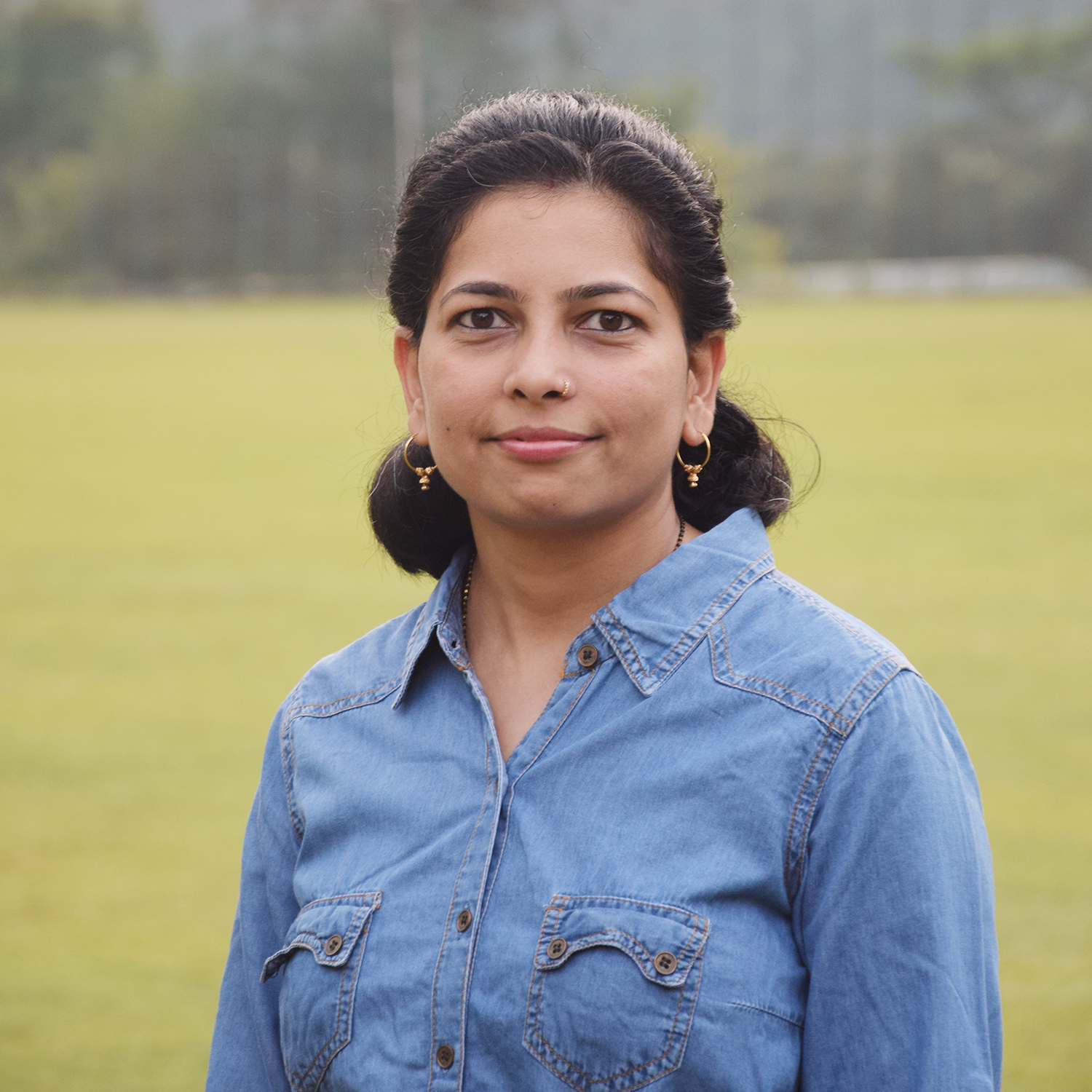 Garima Agrawal
Assistant Professor
School of Chemical Sciences
Personal Information
Professional Experience
Assistant Professor, IIT Mandi, (2019-)
DST-Inspire Faculty, Indian Institute of Technology Roorkee, India, 2016-2019
Postdoctoral Researcher, Department of Pharmaceutics, Ghent University, Belgium, 2015-2016
Educational Background
Ph.D., DWI - Leibniz Institute for Interactive Materials, RWTH Aachen University, Germany, 2010-2015 (With Prof. Andrij Pich)
M.Tech. (Polymer Science & Technology) Indian Institute of Technology Delhi, Delhi, 2008-2010
M.Sc. (Chemistry) from University of Rajasthan, Jaipur, 2006-2008
B.Sc. (Chemistry) from University of Rajasthan, Jaipur, 2003-2006
Research Area
Broad Area
Polymer Chemistry, Materials Chemistry
Specific Areas
Synthesis of Functional Polymers
Polymers with Controlled Architecture and Functional Groups
Stimuli Responsive Polymers
Degradable Polymers
Chemical designing of Nanostructured Materials
Tunable morphology and chemical functionality
Surface chemistry
Polymer based Interactive Materials for Targeted Applications
Functional Nanomaterials for Catalysis, Drug Delivery etc.
Polymer based Tissue Engineering scaffolds
Hybrid Microgels/Hydrogels for Environmental Applications
Materials/Films for Active Packaging
Polymer nanocomposites
Materials for plant care
Polymer/Biopolymer based Viscosifiers for Drilling Fluids
High Performance Polymers for Fuel Cells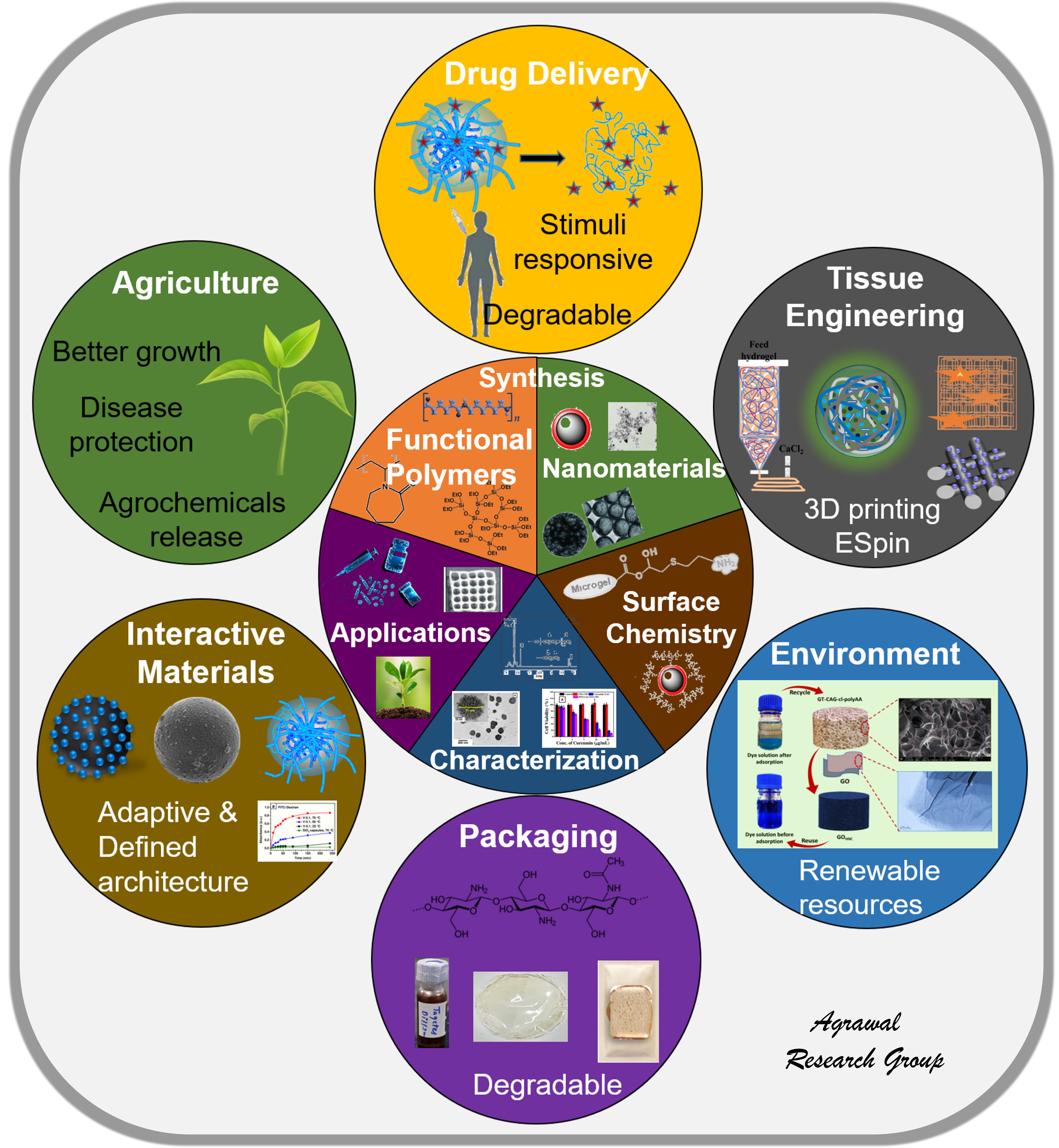 Teaching
CY506-Chemistry of Transition Elements
CY555-Introduction to Polymer Science & Technology
CY554-Science & Technology of Nanomaterials
Awards, Recognition and Membership
DST-Inspire Faculty Award by DST, New Delhi, India (February 2016)
Magna Cum Laude Award in Ph.D. from the Faculty of Natural Sciences, RWTH Aachen University, Germany (2015)
DAAD scholarship for M.Tech. research project in Germany under DAAD-IIT Master's sandwich Program (2009)
Council of scientific and Industrial Research Fellowship (CSIR-JRF) (2008)
All India 123rd rank in GATE in Chemical Sciences (2008).
1st rank in M.Sc. final in Chemistry at Vedic Kanya Mahavidhyalaya, Jaipur (2008).
6th rank in BSc at the University of Rajasthan, Jaipur (2006).
Certificate of merit in secondary examination under National Scholarship Scheme by Government of India (2004).
State level Gargi Puraskar in secondary examination by Balika Shiksha Foundation, Rajasthan Government, Jaipur (2002).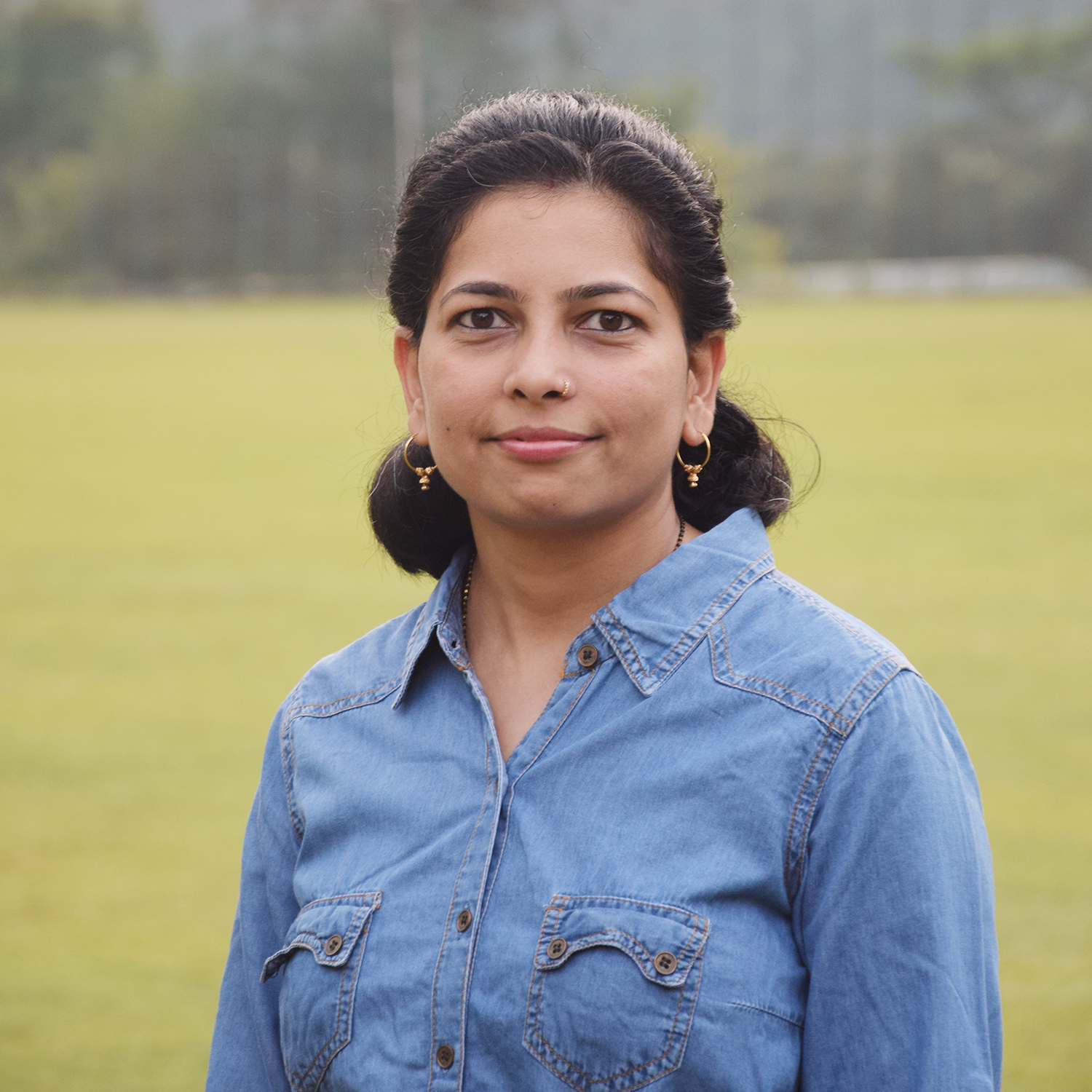 Garima Agrawal
Research Area
Polymer Chemistry
Materials Chemistry
Research Interests
The aim of Functional Polymers and Nanomaterials Laboratory (FunPolyNanoLab) at Indian Institute of Technology Mandi is to develop functional polymers and colloidal particles with controlled chemical structure and morphology. Taking inspiration from nature, we focus in particular on the chemical design of macromolecules that show stimuli responsive behavior, self-assembly, and programmable degradation. We are particularly interested in the synthesis of novel polymer based micro/nanomaterials and using them for designing interactive materials with active properties for targeted applications such as catalysis, controlled release, plant care in agricultural applications, active packaging, water purification, functional coatings, biomaterials, drug delivery, tissue engineering etc.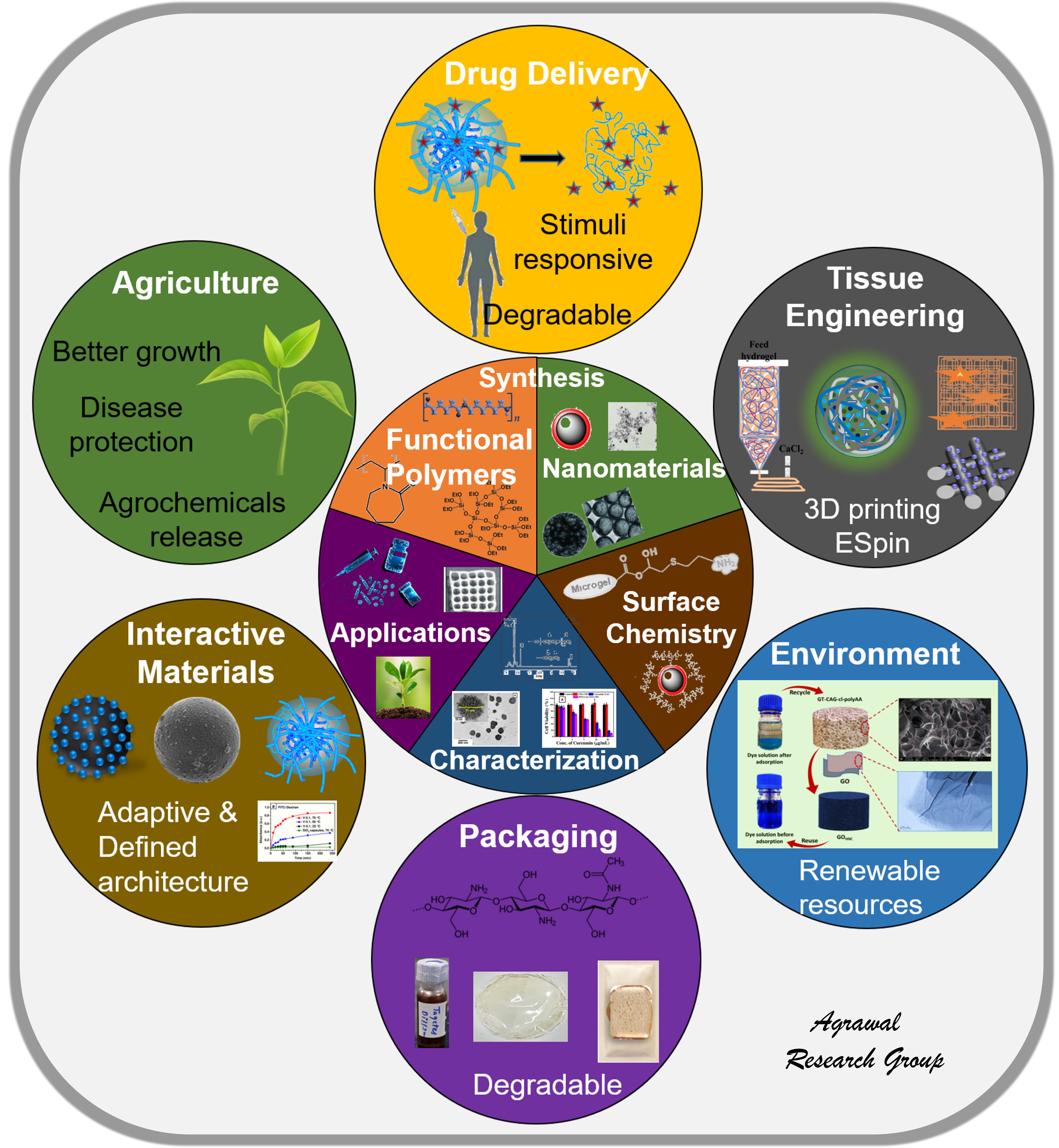 Representive Publications
A. Sood, A. Gupta, R. Bharadwaj, P. Ranganath, N. Silverman, G. Agrawal,* Biodegradable Disulfide Crosslinked Chitosan/stearic Acid Nanoparticles for Dual Drug Delivery for Colorectal Cancer, Carbohydrate Polymers 2022, 294, 119833.
A.K. Sharma, A. Dhiman, A.K. Nayak, R. Mishra, G. Agrawal,* Environmentally benign approach for the efficient sequestration of methylene blue and coomassie brilliant blue using graphene oxide emended gelatin/κ-carrageenan hydrogels, International Journal of Biological Macromolecules 2022, 219, 353.
S. Murab, A. Gupta, M.K.W. Biegun, A. Kumar, P.V. Rijn, P. Whitlock, S.S. Han, G. Agrawal,* Alginate based Hydrogel Inks for 3D Bioprinting of Engineered Orthopedic Tissues, Carbohydrate Polymers 2022, 296, 119964.
A. Sood, V. Arora, S. Kumari, A. Sarkar, S. S. Kumaran, S. Chaturvedi, T. Jain, G. Agrawal,* Imaging Application and Radiosensitivity Enhancement of Pectin Decorated Multifunctional Magnetic Nanoparticles in Cancer Therapy, International Journal of Biological Macromolecules 2021, 189, 443.
G. Agrawal,* R. Agrawal, Functional Microgels: Recent Advances in their Biomedical Applications, Small 2018, 14, 1801724
Publications (Last 5-years)
2022

A.K. Sharma, A. Dhiman, A.K. Nayak, R. Mishra, G. Agrawal,* Environmentally benign approach for the efficient sequestration of methylene blue and coomassie brilliant blue using graphene oxide emended gelatin/κ-carrageenan hydrogels, International Journal of Biological Macromolecules 2022, 219, 353.
S. Murab, A. Gupta, M.K.W. Biegun, A. Kumar, P.V. Rijn, P. Whitlock, S.S. Han, G. Agrawal,* Alginate based Hydrogel Inks for 3D Bioprinting of Engineered Orthopedic Tissues, Carbohydrate Polymers 2022, 296, 119964.
A. Dhiman, A.K. Sharma, G. Agrawal,* Polymer based Engineered Materials for Sustainable Agriculture, ACS Agricultural Science & Technology 2022, 2, 693.
S. Kumari, S. Alagar, A.K. Sharma, D. Upreti, Aashi, G. Agrawal, V. Bagchi,* In-situ Modulation of Al Traces and Interlayer Spacing in Ti3C2Tx -A2 MXene: Supercapacitor with Ultrahigh Capacitance and Energy Density, Advanced Materials Interfaces 2022, just accepted.
A. Sood,† A. Gupta,† R. Bharadwaj, P. Ranganath, N. Silverman, G. Agrawal,* Biodegradable Disulfide Crosslinked Chitosan/stearic Acid Nanoparticles for Dual Drug Delivery for Colorectal Cancer, Carbohydrate Polymers 2022, 294, 119833.
A. Gupta, A. Sood, E. Fuhrer, K. Djanashvili, G. Agrawal,* Polysaccharide-Based Theranostic Systems for Combined Imaging and Cancer Therapy: Recent Advances and Challenges, ACS Biomaterials Science & Engineering 2022, 8, 2281.

2021

G. Agrawal, A. Kumar, Polysaccharides-Based Biomaterials for Surgical Applications, In: Polysaccharides of Microbial Origin 2021, just accepted. DOI: 10.1007/978-3-030-35734-4_51-1 (Book Chapter)
T. Agarwal, S.A. Tan, V. Onesto, J. X. Law,† G. Agrawal,† S. Pal, L. W. Lee, E. Sharifi, F. D. Moghaddam, T. Maiti, Engineered Herbal Scaffolds for Tissue Repair and Regeneration: Recent Trends and Technologies, Biomedical Engineering Advances 2021, 100015. (†equally contributing authors)
A. Sood, V. Arora, S. Kumari, A. Sarkar, S. S. Kumaran, S. Chaturvedi, T. Jain,* G. Agrawal,* Imaging Application and Radiosensitivity Enhancement of Pectin Decorated Multifunctional Magnetic Nanoparticles in Cancer Therapy, International Journal of Biological Macromolecules 2021, 189, 443.
S. Sharma,† G. Agrawal,† Biomedical Applications of Electrospun Polymer and Carbon Fibers, Materials Science & Materials Engineering 2021, just accepted. DOI: 10.1016/B978-0-12-820352-1.00094-8 († joint first author) (Book Chapter)
A. Sood, A. Gupta, G. Agrawal,* Recent advances in polysaccharides based biomaterials for drug delivery and tissue engineering applications, Carbohydrate Polymer Technologies and Applications 2021, 2, 100067.

2020

Sauraj, V. Kumar, B. Kumar, R. Priyadarshi, F. Deeba, A. Kulshreshtha, A. Kumar, G. Agrawal, P. Gopinath, Y. S. Negi, Redox Responsive Xylan-SS-Curcumin Prodrug Nanoparticles for Dual Drug Delivery in Cancer Therapy, Materials Science and Engineering: C 2020, 107, 110356.

2019

G. Agrawal,* R. Agrawal, Janus Nanoparticles: Recent Advances in their Interfacial and Biomedical Applications, ACS Applied Nano Materials 2019, 2, 1738.
G. Agrawal,* S. K. Samal, S. K. Sethi, G. Manik, R. Agrawal, Microgel/Silica Hybrid Colloids: Bioinspired Synthesis and Controlled Release Application, Polymer 2019, 178, 121599.

2018

G. Agrawal,* R. Agrawal, Functional Microgels: Recent Advances in their Biomedical Applications, Small 2018, 14, 1801724 (Hot Topic: Drug Delivery)
G. Agrawal,* R. Agrawal, Stimuli-Responsive Microgels and Microgel-Based Systems: Advances in the Exploitation of Microgel Colloidal Properties and Their Interfacial Activity, Polymers MDPI 2018, 10, 418. (Invited review)
G. Agrawal,* S. K. Samal, Raman Spectroscopy for Advanced Polymeric Biomaterials, ACS Biomaterials Science & Engineering 2018, 4, 1285.
G. Agrawal,* R. Agrawal, Food Packaging: Polymer Composites, In the book edition entitled "Encyclopedia of Polymer Applications", M. Mishra Ed., Taylor & Francis Group, 2018, p. 1359-1373. (Book Chapter)