Faculty Information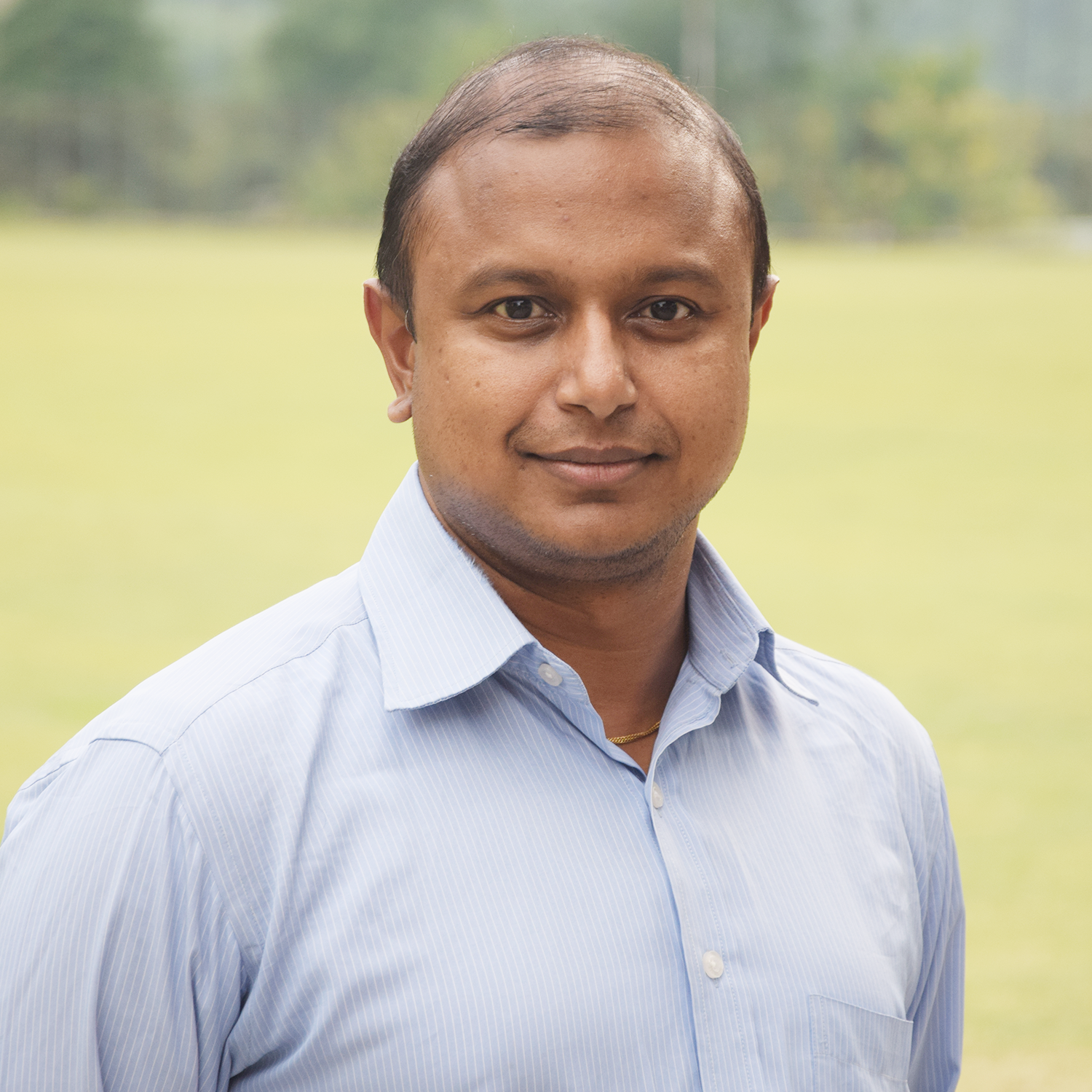 Venkata Krishnan
Professor
School of Chemical Sciences
Personal Information
Professional Experience
Professor (Chemistry), IIT Mandi, Himachal Pradesh, INDIA (Feb. 2023 – till date)
Associate Professor (Chemistry), IIT Mandi, Himachal Pradesh, INDIA (Oct. 2017 – Feb. 2023)
Assistant Professor (Chemistry), IIT Mandi, Himachal Pradesh, INDIA (Apr. 2012 – Sep. 2017)
Research Associate, National Institute for Materials Science (NIMS), Tsukuba, JAPAN (Jun. 2010 – Mar. 2012)
Postdoctoral Researcher, Department of Chemistry, University of Pennsylvania, Philadelphia, U.S.A. (Oct. 2006 – May 2010)
Educational Background
Ph.D. (Physical Chemistry), University of Stuttgart, GERMANY (Jul. 2002 – Jul. 2006) – Summa Cum Laude
M.Sc. (Materials Science), Bharathiar University, Coimbatore, INDIA (Jul. 2000 – Apr. 2002) – First Class with Distinction
B.Sc. (Applied Sciences), Bharathiar University, Coimbatore, INDIA (Jul. 1997 – Apr. 2000) – First Class with Distinction
Research Area
Broad Area
Green Chemistry, Renewable Energy, Clean Environment and Heterogeneous Catalysis
Specific Areas
Biomass Conversion
Carbon Dioxide Reduction
Organic Transformation
Hydrogen Evolution
Pollutants Degradation
Nitrogen Fixation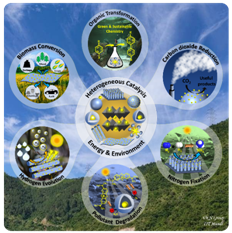 Teaching
CY507 – Chemistry of Main Group Elements
CY511P – Physical Chemistry Laboratory
IC130 – Applied Chemistry for Engineers
IC130P – Applied Chemistry Laboratory
DP301P – Interactive Socio-Technical Practicum
Awards, Recognition and Membership
Publons Peer Review Awards 2019 – Top 1% of Reviewers in Chemistry, Materials Science and Cross Fields
Publons Peer Review Awards 2018 – Top 1% of Reviewers in Chemistry
IIT Mandi Foundation Day Award for Exemplary Contributions to ISTP Course - 2016
IIT Mandi Foundation Day Award for Excellence in Teaching - 2013
DST INSPIRE Faculty Award - 2011
MANA (Materials Nanoarchitectonics) research fellowship – Jun. 2010 to Mar. 2012
DOE (Department of Energy) postdoctoral fellowship – Oct. 2006 to May 2010
DAAD fellowship in the framework of VIGONI program – 2005
DFG (German Research Council) doctoral fellowship – Jul. 2002 to Jun. 2005
Proficiency award for securing first rank in M.Sc. – 2002
Best outgoing student award – 2002
Chemistry convention award – 2001
Best project award for undergraduate project – 2000
Excellence in character and conduct award – 1995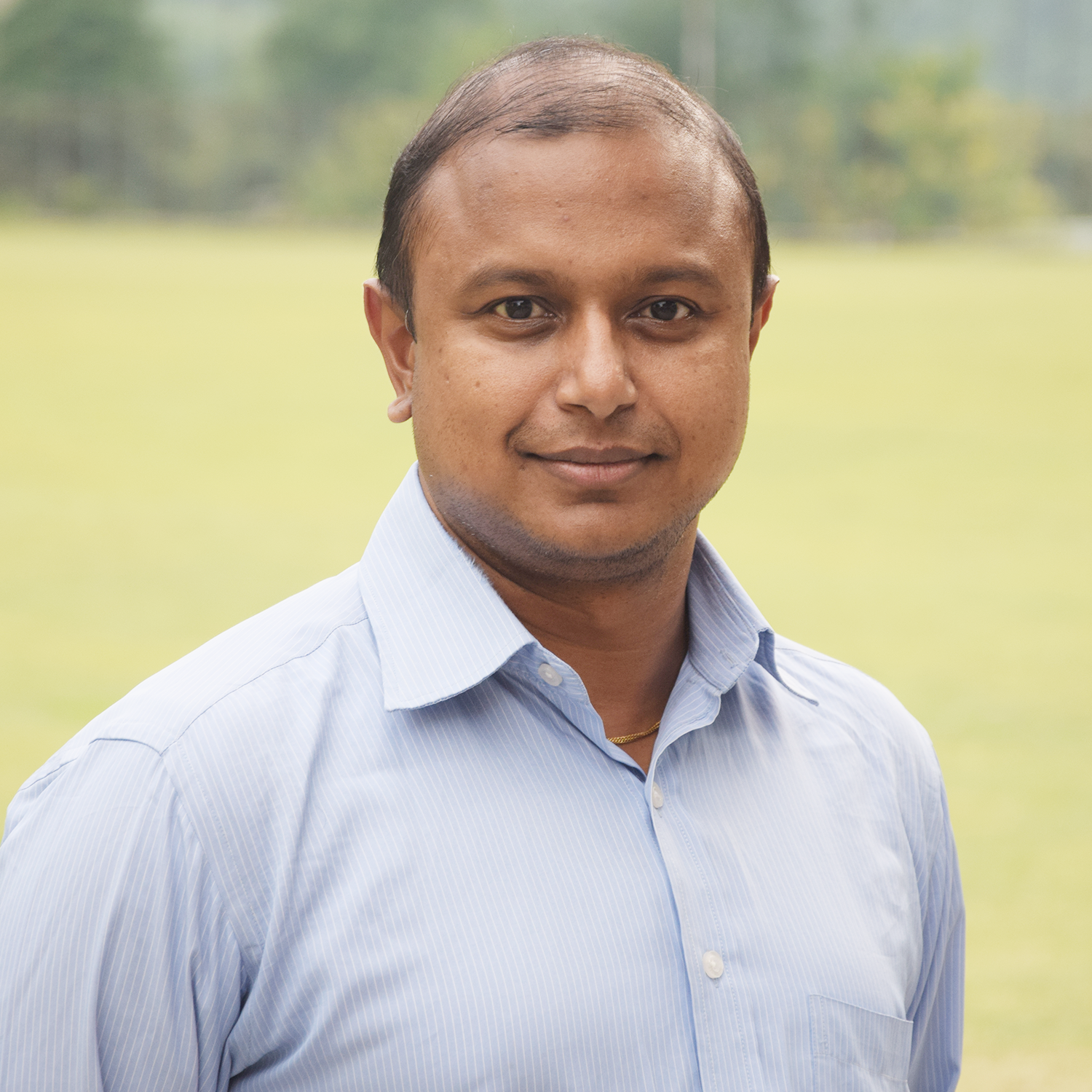 Venkata Krishnan
Research Area
Green Chemistry
Renewable Energy
Clean Environment 
Heterogeneous Catalysis
Research Interests
The major research activities under the Green Chemistry and Catalysis group are the development of heterogeneous catalysts for energy and environmental applications. The main design constraints involved in the rational design and development of heterogeneous catalysts include,
Use of earth-abundant elements
Use of non-toxic and non-polluting materials and processes
Use of relatively low temperature (mostly room temperature) in the entire process
Use of atmospheric pressure for the catalytic reactions
Adherence to the Green Chemistry principles
Catering to the relevant UN Sustainable Development Goals (SDG), mainly,
(a) SDG 06 - Clean Water and Sanitation
(b) SDG 07 - Affordable and Clean energy
(c) SDG 12 - Responsible Consumption and Production
(d) SDG 13 - Climate Action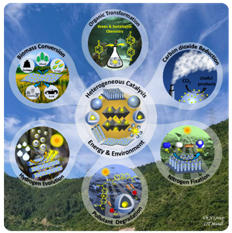 Representive Publications
T. Chhabra, P. Dwivedi and V. Krishnan, Acid Functionalized Hydrochar as Heterogeneous Catalysts for Solventless Synthesis of Biofuel Precursors, Green Chem. 2022, 24, 898-910 (DOI: 10.1039/D1GC03330A).
P. Choudhary, A. Kumar and V. Krishnan , Nanoarchitectonics of Phosphorylated Graphitic Carbon Nitride for Sustainable, Selective and Metal-free Synthesis of Primary Amides, Chem. Eng. J. 2022, 431, 133695 (1-13) (DOI: 10.1016/j.cej.2021.133695).
A. Kumar, M. Kumar, V. N. Rao, M. V. Shankar, S. Bhattacharya and V. Krishnan, Unraveling the Structural and Morphological Stability of Oxygen Vacancy Engineered Leaf-Templated CaTiO3 towards Photocatalytic H2 Evolution and N2 Fixation Reactions, J. Mater. Chem. A 2021, 9, 17006-17018 (DOI: 10.1039/D1TA04180K).
A. Kumar and V. Krishnan, Vacancy Engineering in Semiconductor Photocatalysts: Implications in Hydrogen Evolution and Nitrogen Fixation Applications, Adv. Func. Mater. 2021, 31, 2009807 (1-34) (DOI: 10.1002/adfm.202009807).
A. Kumar, A. Kumar and V. Krishnan , Perovskite Oxide Based Materials for Energy and Environment-Oriented Photocatalysis, ACS Catal. 2020, 10, 10253–10315 (DOI: 10.1021/acscatal.0c02947).
Publications (Last 5-years)
2022

(1) A. Kumar, P. Choudhary, A. Kumar, P. H. C. Camargo and V. Krishnan 
Recent Advances in Plasmonic Photocatalysis based on TiO2 and Noble Metal Nanoparticles for Energy Conversion, Environmental Remediation and Organic Synthesis
(https://doi.org/10.1002/smll.202101638)

(2) N. Kumari, T. Chhabra, S. Kumar and V. Krishnan 
Nanoarchitectonics of sulfonated biochar from pine needles as catalyst for conversion of biomass derived chemicals to value added products 
Catal. Commun. 2022, 168, 106467 (10 pages) (DOI: 10.1016/j.catcom.2022.106467).
(https://doi.org/10.1016/j.catcom.2022.106467)

(3) H. Chand, A. Kumar, P. Bhumla, B. R. Naik, V. Balakrishnan, S. Bhattacharya and V. Krishnan 
Scalable production of ultrathin boron nanosheets from a low-cost precursor
Adv. Mater. Interfaces 2022, in press (DOI: 10.1002/admi.202200508).
(https://doi.org/10.1002/admi.202200508) 

(4) H. Chand, M. Sharma and V. Krishnan 
Nanoarchitectonics of vanadium carbide MXenes for separation and catalytic degradation of contaminants
Sep. Pur. Tech. 2022, 292, 121032 (15 pages) (DOI: 10.1016/j.seppur.2022.121032).
(https://doi.org/10.1016/j.seppur.2022.121032) 

(5) H. Kaur, S. S. Chandel, A. Karmakar, S. Sinha-Ray, V. Krishnan and R. R. Koner
Mercapto-decorated Zn-based metal-organic framework embedded nanofibrous membrane for oxo-anions treatment in aqueous solution 
Chem. Eng. J. 2022, 443, 136212 (12 pages) (DOI: 10.1016/j.cej.2022.136212).
(https://doi.org/10.1016/j.cej.2022.136212)

(6) M. Sharma, A. Kumar and V. Krishnan 
Influence of oxygen vacancy defects on Aurivillius phase layered perovskite oxides of bismuth towards photocatalytic environmental remediation 
Nanotechnology 2022, 33, 275702 (13 pages) (DOI: 10.1088/1361-6528/ac6088).
(https://iopscience.iop.org/article/10.1088/1361-6528/ac6088)

(7) M. Habibi, A. Habibi-Yangjeh, S. R. Pouran, H. Chand, V. Krishnan, X. Xu and C. Wang
Visible-light-triggered persulfate activation by CuCo2S4 modified ZnO photocatalyst for degradation of tetracycline hydrochloride
Colloids Surf. A 2022, 642, 128640 (14 pages) (DOI: 10.1016/j.colsurfa.2022.128640). 
(https://doi.org/10.1016/j.colsurfa.2022.128640)

(8) S. Dhingra, M. Sharma, V. Krishnan and C. M. Nagaraja 
Design of noble metal-free NiTiO3/ZnIn2S4 heterojunction photocatalyst for efficient visible-light-assisted production of H2 and selective synthesis of 2,5-bis(hydroxymethyl)furan
J. Colloid Interface Sci. 2022, 615, 346-356 (DOI: 10.1016/j.jcis.2022.01.190). 
(https://doi.org/10.1016/j.jcis.2022.01.190)

(9) T. Chhabra, J. Rohilla and V. Krishnan 
Nanoarchitectonics of phosphomolybdic acid supported on activated charcoal for selective conversion of furfuryl alcohol and levulinic acid to alkyl levulinates 
Mol. Catal. 2022, 519, 112135 (10 pages) (DOI: 10.1016/j.mcat.2022.112135).
(https://doi.org/10.1016/j.mcat.2022.112135)

(10) T. Chhabra, P. Dwivedi and V. Krishnan 
Acid Functionalized Hydrochar as Heterogeneous Catalysts for Solventless Synthesis of Biofuel Precursors 
Green Chem. 2022, 24, 898-910 (DOI: 10.1039/D1GC03330A).
(https://doi.org/10.1039/D1GC03330A)

(11) M. Rani, P. Choudhary, V. Krishnan and S. Zafar
Development of sustainable microwave-based approach to recover glass fibers for wind turbine blades composite waste
Resour., Conserv. Recycl. 2022, 179, 106107 (9 pages) (DOI: 10.1016/j.resconrec.2021.106107).
(https://doi.org/10.1016/j.resconrec.2021.106107) 

(12) Z. Salmanzadeh-Jamadi, A. Habibi-Yangjeh, S. Feizpoor, E. Pourbasheer, H. Chand, 
V. Krishnan, C. Wang, J. Xie and Y. Zhong
Novel visible-light TiO2/Bi3O4Br photocatalysts with n-n heterojunction: Highly impressive performance for elimination of tetracycline and dye contaminants
Opt. Mater. 2022, 123, 111831 (11 pages) (DOI: 10.1016/j.optmat.2021.111831). 
(https://doi.org/10.1016/j.optmat.2021.111831)

(13) A. Kumar, P. Choudhary and V. Krishnan 
Selective and Efficient Aerobic Oxidation of Benzyl Alcohols using Plasmonic Au-TiO2: Influence of Phase Transformation on Photocatalytic Activity 
Appl. Surf. Sci. 2022, 578, 151953 (13 pages) (DOI: 10.1016/j.apsusc.2021.151953).
(https://doi.org/10.1016/j.apsusc.2021.151953) 

(14) P. Choudhary, A. Kumar and V. Krishnan 
Nanoarchitectonics of Phosphorylated Graphitic Carbon Nitride for Sustainable, 
Selective and Metal-free Synthesis of Primary Amides 
Chem. Eng. J. 2022, 431, 133695 (13 pages) (DOI: 10.1016/j.cej.2021.133695).
(https://doi.org/10.1016/j.cej.2021.133695)

(15) H. Kaur, S. Walia, A. Karmakar, V. Krishnan and R. R. Koner 
Water-Stable Zn-based Metal-Organic Framework with Hydrophilic-Hydrophobic Surface for Selective Adsorption and Sensitive Detection of Oxo-anions and Pesticides in Aqueous Medium
J. Environ. Chem. Eng. 2022, 10, 106667 (11 pages) (DOI: 10.1016/j.jece.2021.106667).  
(https://doi.org/10.1016/j.jece.2021.106667)

(16) P. Goyal, A. Paruthi, D. Menon, R. Behara, A. Jaiswal, V. Keerthy, A. Kumar, V. Krishnan and S. K. Misra
Fe doped bimetallic HKUST-1 MOF with enhanced water stability for trapping Pb(II) with high adsorption capacity
Chem. Eng. J. 2022, 430, 133088 (13 pages) (DOI: 10.1016/j.cej.2021.133088). 
(https://doi.org/10.1016/j.cej.2021.133088)

(17) S. Dhingra, M. Sharma, V. Krishnan and C. M. Nagaraja 
Design of noble metal-free CoTiO3/Zn0.5Cd0.5S heterostructure photocatalyst for selective synthesis of furfuraldehyde combined with H2 production
J. Colloid Interface Sci. 2022, 608, 1040-1050 (DOI: 10.1016/j.jcis.2021.10.031). 
(https://doi.org/10.1016/j.jcis.2021.10.031)

(18) V. Sharma, A. Kumar, A. Kumar and V. Krishnan 
Enhanced Photocatalytic Activity of Two Dimensional Ternary Nanocomposites of 
ZnO-Bi2WO6-Ti3C2 MXene under Natural Sunlight Irradiation 
Chemosphere 2022, 287, 132119 (11 pages) (DOI: 10.1016/j.chemosphere.2021.132119).
(https://doi.org/10.1016/j.chemosphere.2021.132119)

(19) A. Kumar, S. Kashyap, M. Sharma and V. Krishnan 
Tuning the Surface and Optical Properties of Graphitic Carbon Nitride by Incorporation of Alkali Metals (Na, K, Cs and Rb): Effect on Photocatalytic Removal of Organic Pollutants 
Chemosphere 2022, 287, 131988 (10 pages) (DOI: 10.1016/j.chemosphere.2021.131988).
(https://doi.org/10.1016/j.chemosphere.2021.131988)

(20) N. Kumari, N. Sood and V. Krishnan 
Beetle Wing Inspired Fabrication of Nanojunction based Biomimetic SERS Substrates for Sensitive Detection of Analytes
Mater. Technol. 2022, 37, 112-123 (DOI: 10.1080/10667857.2020.1816382). 
(https://doi.org/10.1080/10667857.2020.1816382)

2021

(1) H. Kaur, S. Sinha, V. Krishnan and R. R. Koner
Coordination Networks for Oxo-anions Recognition
Dalton Trans. 2021, 50, 8273-8291 (DOI: 10.1039/D1DT00411E). 
(https://doi.org/10.1039/D1DT00411E)

(2) A. Kumar and V. Krishnan 
Vacancy Engineering in Semiconductor Photocatalysts: Implications in Hydrogen Evolution and Nitrogen Fixation Applications
Adv. Func. Mater. 2021, 31, 2009807 (34 pages) (DOI: 10.1002/adfm.202009807). 
(https://doi.org/10.1002/adfm.202009807)

(3) H. Chand, A. Kumar and V. Krishnan 
Borophene and Boron-based Nanosheets: Recent Advances in Synthesis Strategies and 
Applications in the Field of Environment and Energy
Adv. Mater. Interfaces 2021, 8, 2100045 (31 pages) (DOI: 10.1002/admi.202100045). 
(https://doi.org/10.1002/admi.202100045)

(4) J. Prakash, Samriti, A. Kumar, H. Dai, B. C. Janegitz, V. Krishnan, H. C. Swart and S. Sun 
Novel rare earth metal-doped one-dimensional TiO2 nanostructures: Fundamentals and multifunctional applications  
Mater. Today Sustainability 2021, 13, 100066 (40 pages) (DOI: 10.1016/j.mtsust.2021.100066). 
(https://doi.org/10.1016/j.mtsust.2021.100066)

(5) M. Rani, P. Choudhary, V. Krishnan and S. Zafar 
A review on recycling and reuse methods for carbon fiber/glass fiber composites waste from wind turbine blades  
Composites, Part B 2021, 215, 108768 (15 pages) (DOI: 10.1016/j.compositesb.2021.108768). 
(https://doi.org/10.1016/j.compositesb.2021.108768) 

(6) V. Hasija, V. -H. Nguyen, A. Kumar, P. Raizada, V. Krishnan, A. A. P. Khan, P. Singh, E. Lichtfouse, C. Wang and P. T. Huong
Advanced activation of persulfate by polymeric g-C3N4 based photocatalysts for environmental remediation: A review 
J. Hazard. Mater. 2021, 413, 125324 (14 pages) (DOI: 10.1016/j.jhazmat.2021.125324). 
(https://doi.org/10.1016/j.jhazmat.2021.125324) 

(7) M. Habibi, A. Habibi-Yangjeh, M. Sabri, H. Chand, V. Krishnan and C. Wang
Highly impressive activation of persulfate ions by novel ZnO/CuCo2O4 nanostructures for photocatalytic removal of tetracycline hydrochloride under visible light
Environ. Technol. Innovation 2021, 24, 102038 (14 pages) (DOI: 10.1016/j.eti.2021.102038). 
(https://doi.org/10.1016/j.eti.2021.102038)

(8) A. Habibi-Yangjeh, M. Sabri, H. Chand, V. Krishnan and C. Wang
Novel ZnO/CuBiS2 nanocomposites with p-n heterojunctions for persulfate-promoted photocatalytic mitigation of pollutants under visible light
Surf. Interfaces 2021, 27, 101518 (12 pages) (DOI: 10.1016/j.surfin.2021.101518). 
(https://doi.org/10.1016/j.surfin.2021.101518)

(9) S. Shafafi, A. Habibi-Yangjeh, S. Feizpoor, H. Chand and V. Krishnan 
Impressive Visible-light Photocatalytic Performance of TiO2 by Integration with Bi2SiO5 Nanoparticles: Binary TiO2/Bi2SiO5 Photocatalysts with n-n Heterojunction
Colloids Surf. A 2021, 629, 127392 (12 pages) (DOI: 10.1016/j.colsurfa.2021.127392). 
(https://doi.org/10.1016/j.colsurfa.2021.127392) 

(10) T. Chhabra, S. Dhingra, C. M. Nagaraja and V. Krishnan 
Influence of Lewis and Brønsted acidic sites on graphitic carbon nitride catalyst for aqueous phase conversion of biomass derived monosaccharides to 5-hydroxymethylfurfural
Carbon 2021, 183, 984-998 (DOI: 10.1016/j.carbon.2021.07.076). 
(https://doi.org/10.1016/j.carbon.2021.07.076) 

(11) A. Kumar, M. Kumar, V. N. Rao, M. V. Shankar, S. Bhattacharya and V. Krishnan 
Unraveling the Structural and Morphological Stability of Oxygen Vacancy Engineered Leaf-Templated CaTiO3 towards Photocatalytic H2 Evolution and N2 Fixation Reactions
J. Mater. Chem. A 2021, 9, 17006-17018 (DOI: 10.1039/D1TA04180K).
(https://doi.org/10.1039/D1TA04180K) 

(12) P. Choudhary, A. Sen, A. Kumar, S. Dhingra, C. M. Nagaraja and V. Krishnan 
Sulfonic Acid Functionalized Graphitic Carbon Nitride as Solid Acid-Base Bifunctional Catalyst for Knoevenagel Condensation and Multicomponent Tandem Reactions
Mater. Chem. Front. 2021, 5, 6265-6278 (DOI: 10.1039/D1QM00650A). 
(https://doi.org/10.1039/D1QM00650A)

(13) N. Kumari, T. Chhabra, A. Kumar and V. Krishnan 
Bioderived Carbon Supported Bismuth Molybdate Nanocomposites as Bifunctional Catalysts for Removal of Organic Pollutants: Adsorption and Photocatalytic Studies
Mater. Lett. 2021, 302, 130455 (5 pages) (DOI: 10.1016/j.matlet.2021.130455). 
(https://doi.org/10.1016/j.matlet.2021.130455) 

(14) H. Chand, P. Choudhary, A. Kumar, A. Kumar and V. Krishnan 
Atmospheric pressure conversion of carbon dioxide to cyclic carbonates using a metal-free Lewis acid-base bifunctional heterogeneous catalyst
J. CO2 Util. 2021, 51, 101646 (12 pages) (DOI: 10.1016/j.jcou.2021.101646). 
(https://doi.org/10.1016/j.jcou.2021.101646)

(15) V. N. Rao, V. Preethi, U. Bhargav, P. Ravi, A. Kumar, M. Sathish, V. Krishnan, V. Venkatramu, M. M. Kumari, K. R. Reddy, N. P. Shetti, T. M. Aminabhavi and M. V. Shankar
Gram-scale synthesis of ZnS/NiO core-shell hierarchical nanostructures and their enhanced H2 production in crude glycerol and sulfide wastewater
Environ. Res. 2021, 199, 111323 (12 pages) (DOI: 10.1016/j.envres.2021.111323).
(https://doi.org/10.1016/j.envres.2021.111323 ) 

(16) P. Hemmati-Eslamlu, A. Habibi-Yangjeh, S. Asadzadeh-Khaneghah, H. Chand and V. Krishnan
Integration g-C3N4 nanotubes and Sb2MoO6 nanoparticles: Impressive photoactivity for tetracycline degradation, Cr (VI) reduction, and organic dyes removals under visible light
Adv. Powder Technol. 2021, 32, 2322-2335 (DOI: 10.1016/j.apt.2021.05.007).
(https://doi.org/10.1016/j.apt.2021.05.007)

(17) V. N. Rao, U. Bharagav, A. Kumar, V. Krishnan, P. Ravi, M. Sathish, J. Velusamy, S. Pitchaimuthu, M. M. Kumari, J. Theerthagiri and M. V. Shankar
Surfactant Controlled Metal Oxide Shell Layer Deposition for Enhanced Photocatalytic Solar Hydrogen Generation: CdSe/TiO2 Nanocomposite a Case Study
Mater. Lett. 2021, 298, 130025 (4 pages) (DOI: 10.1016/j.matlet.2021.130025).
(https://doi.org/10.1016/j.matlet.2021.130025) 

(18) S. Asadzadeh-Khaneghah, A. Habibi-Yangjeh, D. Seifzadeh, H. Chand and V. Krishnan
Visible-light-activated g-C3N4 nanosheet/carbon dot/FeOCl nanocomposites: Photodegradation of dye pollutants and tetracycline hydrochloride
Colloids Surf. A 2021, 617, 126424 (13 pages) (DOI: 10.1016/j.colsurfa.2021.126424).
(https://doi.org/10.1016/j.colsurfa.2021.126424)

(19) B. Debnath, S. Dhingra, V. Sharma, V. Krishnan and C. M. Nagaraja 
Efficient photocatalytic generation of hydrogen by twin Zn0.5Cd0.5S nanorods decorated with noble metal-free co-catalyst and reduction of 4-nitrophenol in water
Appl. Surf. Sci. 2021, 550, 149367 (12 pages) (DOI: 10.1016/j.apsusc.2021.149367). 
(https://doi.org/10.1016/j.apsusc.2021.149367)

(20) S. Asadzadeh-Khaneghah, A. Habibi-Yangjeh, D. Seifzadeh, H. Chand and V. Krishnan
G-C3N4 nanosheets adhered with Ag3BiO3 and carbon dots with appreciably promoted photoactivity towards elimination of several contaminants
Adv. Powder Technol. 2021, 32, 1196-1206 (DOI: 10.1016/j.apt.2021.02.024).
(https://doi.org/10.1016/j.apt.2021.02.024)

(21) S. Feizpoor, A. Habibi-Yangjeh, H. Chand and V. Krishnan 
Integration of Bi5O7I with TiO2: Binary photocatalysts with boosted visible-light photocatalysis in removal of organic contaminants
J. Photochem. Photobiol. A 2021, 410, 113190 (13 pages) (DOI: 10.1016/j.jphotochem.2021.113190).
(https://doi.org/10.1016/j.jphotochem.2021.113190)

(22) A. Kumar, K. R. Shankar, A. Kumar, G. Harith and V. Krishnan 
Controlling kinetics of visible-light-induced photocatalytic performance of gold decorated graphitic carbon nitride nanocomposite using different proteins
J. Environ. Chem. Eng. 2021, 9, 105147 (13 pages) (DOI: 10.1016/j.jece.2021.105147). 
(https://doi.org/10.1016/j.jece.2021.105147) 

(23) S. S. Madani, A. Habibi-Yangjeh, S. Asadzadeh-Khaneghah, H. Chand, V. Krishnan and A. Zada
Integration of Bi4O5I2 nanoparticles with ZnO: Impressive visible-light-induced systems for elimination of aqueous contaminants
J. Taiwan Inst. Chem. Eng. 2021, 119, 177-186 (DOI: 10.1016/j.jtice.2021.01.020).
(https://doi.org/10.1016/j.jtice.2021.01.020)

(24) N. Kumari, A. Kumar and V. Krishnan 
Ultrathin Au-Ag Heterojunctions on Nanoarchitectonics based Biomimetic Substrates for Dip Catalysis
J. Inorg. Organomet. Polym. Mater. 2021, 31, 1954–1966. 
(DOI: 10.1007/s10904-021-01902-9)
(https://doi.org/10.1007/s10904-021-01902-9)

(25) A. Kumar, P. Choudhary, K. Kumar, A. Kumar and V. Krishnan 
Plasmon induced hot electron generation in two dimensional carbonaceous nanosheets decorated with Au nanostars: Enhanced photocatalytic activity under visible light
Mater. Chem. Front. 2021, 5, 1448-1467 (DOI: 10.1039/D0QM00949K). 
(https://pubs.rsc.org/en/content/articlelanding/2021/qm/d0qm00949k) 
 
(26) A. Jain, A. Kumar, H. Kaur and V. Krishnan 
Strategic Combination of Ultra Violet-Visible-Near Infrared Light Active Materials towards Maximum Utilization of Full Solar Spectrum for Photocatalytic Chromium Reduction
Chemosphere 2021, 267, 128884 (13 pages) (DOI: 10.1016/j.chemosphere.2020.128884). 
(https://doi.org/10.1016/j.chemosphere.2020.128884) 

(27) V. Sharma,  V. Maivizhikannan, V. N. Rao, S. Kumar, A. Kumar, A. Kumar, M. V. Shankar and V. Krishnan 
Sea Urchin Shaped ZnO Coupled with MoS2 and Polyaniline as Highly Efficient Photocatalysts for Organic Pollutant Decomposition and Hydrogen Evolution
Ceramics Intl. 2021, 47, 10301-10313 (DOI: 10.1016/j.ceramint.2020.09.199). 
(https://doi.org/10.1016/j.ceramint.2020.09.199)

2020

(1) A. Kumar, A. Kumar and V. Krishnan 
Perovskite Oxide Based Materials for Energy and Environment-Oriented Photocatalysis
ACS Catal. 2020, 10, 10253–10315 (DOI: 10.1021/acscatal.0c02947). 
(https://dx.doi.org/10.1021/acscatal.0c02947)

(2) S. Kumar, A. Kumar, A. Kumar and V. Krishnan 
Nanoscale Zinc Oxide based Heterojunctions as Visible Light Active Photocatalysts for Hydrogen Energy and Environmental Remediation
Catal. Rev. 2020, 62, 346-405 (DOI: 10.1080/01614940.2019.1684649). 
(https://www.tandfonline.com/doi/full/10.1080/01614940.2019.1684649) 

(3) A. Kumar, V. N. Rao, A. Kumar, A. Mushtaq, L. Sharma, A. Halder, S. K. Pal, M. V. Shankar and V. Krishnan 
Three-Dimensional Carbonaceous Aerogels Embedded with Rh-SrTiO3 for Enhanced Hydrogen Evolution Triggered by Efficient Charge Transfer and Light Absorption
ACS Appl. Ener. Mater. 2020, 3, 12134–12147 (DOI: 10.1021/acsaem.0c02229).
(https://pubs.acs.org/doi/abs/10.1021/acsaem.0c02229) 

(4) N. Sharma, A. K. Dey, R. Y. Sathe, A. Kumar, V. Krishnan, D. T. J. Kumar and C. M. Nagaraja   
Highly efficient visible-light-driven reduction of Cr(VI) from water by porphyrin-based metal−organic frameworks: Effect of band gap engineering on the photocatalytic activity
Catal. Sci. Technol. 2020, 10, 7724-7733 (DOI: 10.1039/D0CY00969E). 
(https://doi.org/10.1039/D0CY00969E)

(5) A. L. James, M. Lenka, N. Pandey, A. Ojha, A. Kumar, R. Saraswat, P. Thareja, V. Krishnan and K. Jasuja 
Processable dispersions of photocatalytically active nanosheets derived from titanium diboride: Self-assembly into hydrogels and paper-like macrostructures
Nanoscale 2020, 12, 17121-17131 (DOI: 10.1039/d0nr03677c). 
(https://pubs.rsc.org/en/content/articlelanding/2020/nr/d0nr03677c)    

(6) M. Singh, A. Kumar and V. Krishnan 
Influence of Different Bismuth Oxyhalides on Photocatalytic Activity of Graphitic Carbon Nitride: A Comparative Study under Natural Sunlight
Mater. Adv. 2020, 1, 1262-1272 (DOI: 10.1039/D0MA00294A). 
(https://pubs.rsc.org/en/content/articlelanding/2020/MA/D0MA00294A)
 
(7) S. Dhingra, T. Chhabra, V. Krishnan and C. M. Nagaraja
Visible-Light-Driven Selective Oxidation of Biomass-Derived HMF to DFF Coupled with H2 Generation by Noble Metal-Free Zn0.5Cd0.5S/MnO2 Heterostructures
ACS Appl. Ener. Mater.  2020, 3, 7138-7148 (DOI: 10.1021/acsaem.0c01189). 
(https://pubs.acs.org/doi/10.1021/acsaem.0c01189)

(8) P. Choudhary, A. Bahuguna, A. Kumar, S. S. Dhankar, C. M. Nagaraja and V. Krishnan 
Oxidized graphitic carbon nitride as a sustainable metal-free catalyst for hydrogen transfer reactions under mild conditions
Green Chem. 2020, 22, 5084-5095 (DOI: 10.1039/D0GC01123A). 
(https://pubs.rsc.org/en/content/articlelanding/2020/gc/d0gc01123a)

(9) M. Sabri, A. Habibi-Yangjeh, H. Chand and V. Krishnan 
Activation of persulfate by novel TiO2/FeOCl photocatalyst under visible light: Facile synthesis and high photocatalytic performance
Sep. Purif. Technol. 2020, 250, 117268 (13 pages) (DOI: 10.1016/j.seppur.2020.117268). 
(https://www.sciencedirect.com/science/article/pii/S1383586620317421)

(10) S. Ishihara, A. Bahuguna, S. Kumar, V. Krishnan, J. Labuta, T. Nakanishi, T. Tanaka, H. Kataura, Y. Kon and D. Hong 
Cascade Reaction-based Chemiresistive Array for Ethylene Sensing
ACS Sensors 2020, 5, 1405-1410 (DOI: 10.1021/acssensors.0c00194).  
(https://pubs.acs.org/doi/10.1021/acssensors.0c00194)

(11) H. Kaur, S. Sinha, V. Krishnan and R. R. Koner 
Photocatalytic reduction and recognition of Cr(VI): New Zn(II) based metal organic framework as catalytic surface
Ind. Eng. Chem. Res. 2020, 59, 8538-8550 (DOI: 10.1021/acs.iecr.9b06417).  
(https://pubs.acs.org/doi/10.1021/acs.iecr.9b06417)

(12) P. Kumar, A. Kumar, M. A. Rizvi, S. K. Moosvi, V. Krishnan, M.M. Duvenhage, W.D. Roos and H.C. Swart 
Surface, optical and photocatalytic properties of Rb doped ZnO nanoparticles
Appl. Surf. Sci. 2020, 514, 145930 (16 pages).  
(https://www.sciencedirect.com/science/article/pii/S0169433220306863)

(13) A. Kumar, V. N. Rao, A. Kumar, M. V. Shankar and V. Krishnan 
Interplay between mesocrystals of CaTiO3 and edge sulfur atom enriched MoS2 on reduced graphene oxide nanosheets: Boosted photocatalytic performance under sunlight irradiation
ChemPhotoChem 2020, 4, 427-444 (DOI: 10.1002/cptc.201900267). 
(https://onlinelibrary.wiley.com/doi/abs/10.1002/cptc.201900267)

(14) A. Bahuguna, A. Singh, P. Kumar, D. Dhasmana, V. Krishnan and N. Garg 
Bisindolemethane derivatives as highly potent anticancer agents: Synthesis, medicinal activity evaluation, cell-based compound discovery, and computational target predictions
Comp. Biol. Med. 2020, 116, 103574 (14 pages).  
(https://www.sciencedirect.com/science/article/pii/S0010482519304287)

2019

(1) A. Bahuguna, A. Kumar and V. Krishnan 
Carbon Support based Heterogeneous Nanocatalysts: Synthesis and Application toward Organic Transformation Reactions
Asian J. Org. Chem. 2019, 8, 1263-1305.
(https://onlinelibrary.wiley.com/doi/abs/10.1002/ajoc.201900259)

(2) T. Chhabra, A. Bahuguna, S. S. Dhankhar, C. M. Nagaraja and V. Krishnan 
Sulfonated Graphitic Carbon Nitride as Highly Selective and Efficient Heterogeneous Catalyst for Conversion of Biomass-derived Saccharides to 5-Hydroxymethylfurfural in Green Solvents
Green Chem. 2019, 21, 6012-6026.  
(https://pubs.rsc.org/en/content/articlelanding/2019/GC/C9GC02120E)

(3) S. Kumar, A. Kumar, V. N. Rao, A. Kumar, M. V. Shankar and V. Krishnan 
Defect-Rich MoS2 Ultrathin Nanosheets-Coated Nitrogen-Doped ZnO Nanorod Heterostructures: An Insight into in-Situ-Generated ZnS for Enhanced Photocatalytic Hydrogen Evolution
ACS Appl. Ener. Mater. 2019, 2, 5622-5634. 
(https://pubs.acs.org/doi/10.1021/acsaem.9b00790) 

(4) A. Kumar, K. Kumar and V. Krishnan 
Sunlight driven methanol oxidation by anisotropic plasmonic Au nanostructures supported on amorphous titania: Influence of morphology on photocatalytic activity
Mater. Lett. 2019, 245, 45-48.
(https://www.sciencedirect.com/science/article/pii/S0167577X19303325)   

(5) S. Kumar, V. Maivizhikannan, J. Drews and V. Krishnan 
Fabrication of nanoheterostructures of boron doped ZnO-MoS2 with enhanced photostability and photocatalytic activity for environmental remediation applications
Vacuum 2019, 163, 88-98.
(https://www.sciencedirect.com/science/article/pii/S0042207X18313654)   

(6) K. L. Reddy, S. Kumar, A. Kumar and V. Krishnan 
Wide spectrum photocatalytic activity in lanthanide-doped upconversion nanophosphors coated with porous TiO2 and Ag-Cu bimetallic nanoparticles 
J. Hazard. Mater. 2019, 367, 694-705.
(https://www.sciencedirect.com/science/article/pii/S0304389419300044)  

(7) T. Chhabra, A. Kumar, A. Bahuguna and V. Krishnan 
Reduced graphene oxide supported MnO2 nanorods as recyclable and efficient adsorptive photocatalysts for pollutants removal
Vacuum 2019, 160, 333-346.
(https://doi.org/10.1016/j.vacuum.2018.11.053) 

(8) H. Kaur, R. Kumar, A. Kumar, V. Krishnan and R. R. Koner
Trifunctional Metal-Organic Platform for Environmental Remediation: Structural Features with Peripheral Hydroxyl Groups Facilitate Adsorption, Degradation, and Reduction
Dalton Trans. 2019, 48, 915-927.
(https://pubs.rsc.org/en/content/articlelanding/2018/dt/c8dt04180f) 

(9) K. L. Reddy, P. K. Sharma, A. Singh, A. Kumar, K. R. Shankar, Y. Singh, N. Garg and V. Krishnan 
Amine-functionalized, porous silica-coated NaYF4:Yb/Er upconversion nanophosphors for efficient delivery of doxorubicin and curcumin
Mater. Sci. Eng. C 2019, 96, 86-95.
(https://doi.org/10.1016/j.msec.2018.11.007) 

2018

(1) K. L. Reddy, R. Balaji, A. Kumar and V. Krishnan 
Lanthanide Doped Near Infrared Active Upconversion Nanophosphors: Fundamental Concepts, Synthesis Strategies and Technological Applications
Small 2018, 14, 1801304 (27 pages). 
(https://onlinelibrary.wiley.com/doi/abs/10.1002/smll.201801304) 

(2) A. Bahuguna, A. Kumar, T. Chhabra, A. Kumar and V. Krishnan 
Potassium-Functionalized Graphitic Carbon Nitride Supported on Reduced Graphene Oxide as a Sustainable Catalyst for Knoevenagel Condensation 
ACS Appl. Nano Mater. 2018, 1, 6711-6723.
(https://pubs.acs.org/doi/full/10.1021/acsanm.8b01524) 

(3) A. Bahuguna, P. Choudhary, T. Chhabra and V. Krishnan 
Ammonia-doped Polyaniline-Graphitic Carbon Nitride Nanocomposite as Heterogeneous Green Catalyst for Synthesis of Indole-substituted 4H-Chromenes
ACS Omega 2018, 3, 12163-12178.
(https://pubs.acs.org/doi/10.1021/acsomega.8b01687) 

(4) D. Gambhir, S. Kumar, G. Dey, V. Krishnan and R. R. Koner
Preferential intermolecular interactions lead to chiral recognition: Enantioselective gel formation and collapsing
Chem. Commun. 2018, 54, 11407-11410.
(http://pubs.rsc.org/en/Content/ArticleLanding/2018/CC/C8CC06471G) 

(5) K. L. Reddy, N. Prabhakar, J. M. Rosenholm and V. Krishnan
Core-Shell Structures of Upconversion Nanocrystals Coated with Silica for Near Infrared Light Enabled Optical Imaging of Cancer Cells
Micromachines 2018, 9, 400 (12 pages). 
(http://www.mdpi.com/2072-666X/9/8/400) 

(6) S. Kumar, V. Pandit, K. Bhattacharyya and V. Krishnan
Sunlight driven Photocatalytic Reduction of 4-Nitrophenol on Pt Decorated ZnO-RGO Nanoheterostructures
Mater. Chem. Phys. 2018, 214, 364-376. 
(https://doi.org/10.1016/j.matchemphys.2018.04.113) 

(7) A. Kumar, K. L. Reddy, S. Kumar, A. Kumar, V. Sharma and V. Krishnan
Rational Design and Development of Lanthanide-doped NaYF4@CdS-Au-RGO as Quaternary Plasmonic Photocatalysts for Harnessing Visible-NIR Broadband Spectrum
ACS Appl. Mater. Interfaces 2018, 10, 18, 15565–15581. 
(https://pubs.acs.org/doi/full/10.1021/acsami.7b17822) 

(8) V. Sharma, R. Balaji and V. Krishnan
Fog-Harvesting Properties of Dryopteris marginata: Role of Interscalar Microchannels in Water-Channeling
Biomimetics 2018, 3, 2, 7 (13 pages). 
(http://www.mdpi.com/2313-7673/3/2/7)  

(9) V. Sharma, D. Orejon, Y. Takata, V. Krishnan and S. Harish
Gladiolus dalenii based Bioinspired Structured Surface via Soft Lithography and its Application in Water Vapor Condensation and Fog Harvesting
ACS Sustainable Chem. Eng. 2018, 6,6981–6993.
(https://pubs.acs.org/doi/10.1021/acssuschemeng.8b00815) 

(10) S. Kumar, A. Dhiman, P. Sudhagar and V. Krishnan
ZnO-Graphene Quantum Dots Heterojunctions for Natural Sunlight-driven Photocatalytic Environmental Remediation
Appl. Surf. Sci.    2018, 447, 802-815. 
(https://doi.org/10.1016/j.apsusc.2018.04.045)   

(11) A. Bahuguna, A. Kumar, S. Kumar, T. Chhabra and V. Krishnan
2D‐2D Nanocomposite of MoS2‐Graphitic Carbon Nitride as Multifunctional Catalyst for Sustainable Synthesis of 3C‐functionalized Indoles
ChemCatChem 2018, 10, 3121-3132. 
(https://doi.org/10.1002/cctc.201800369)  

(12) A. Kumar, V. Sharma, S. Kumar, A. Kumar and V. Krishnan
Towards Utilization of Full Solar Light Spectrum using Green Plasmonic Au-TiOx Photocatalyst at Ambient Conditions
Surf. Interfaces 2018, 11, 98-106.
(https://doi.org/10.1016/j.surfin.2018.03.005) 

(13) V. Sharma and V. Krishnan
Fabrication of Highly Sensitive Biomimetic SERS Substrates for Detection of Herbicides in Trace Concentration
Sens. Actuators B: Chem. 2018, 262, 710-719.
(https://doi.org/10.1016/j.snb.2018.01.230) 

(14) A. Kumar, C. Schuerings, S. Kumar, A. Kumar and V. Krishnan
Perovskite Structured CaTiO3 Coupled with g-C3N4 as Heterojunction Photocatalyst for Organic Pollutants Degradation
Beilstein J. Nanotechnol. 2018, 9, 671-685.
(https://www.beilstein-journals.org/bjnano/articles/9/62) 

(15) S. Kumar, A. Kumar, A. Kumar, R. Balaji and V. Krishnan
Highly Efficient Visible Light Active 2D-2D Nanocomposites of N-ZnO-g-C3N4 for photocatalytic Degradation of Diverse Industrial Pollutants
ChemistrySelect 2018, 3, 1919-1932.
(https://doi.org/10.1002/slct.201703156) 

(16) K. L. Reddy, M. Venkateswarulu, K. R. Shankar, S. Ghosh and V. Krishnan
Upconversion Luminescent Material Based Inorganic-Organic Hybrid Sensing System for the Selective Detection of Hydrazine in Environmental Samples
ChemistrySelect 2018, 3, 1793-1800.
(https://doi.org/10.1002/slct.201702666) 

(17) K. L. Reddy, A. M. Kumar, A. Dhir and V. Krishnan
New Ni-Anthracene Complex for Selective and Sensitive Detection of 2,4,6-Trinitrophenol
Intl. J. Spectrosc. 2018, 2018, 1321427 (5 pages).
(https://www.hindawi.com/journals/ijs/aip/1321427/) 

(18) A. Bahuguna, S. Kumar and V. Krishnan
Nanohybrid of ZnO-RGO as Heterogeneous Green Catalyst for the Synthesis of Medicinally Significant Indole Alkaloids and Their Derivatives
ChemistrySelect 2018, 3, 12373-12379.
(http://onlinelibrary.wiley.com/doi/10.1002/slct.201701990/full) 

(19) H. Kaur, M. Venkateswarulu, S. Kumar, V. Krishnan and R. R. Koner
Metal-organic framework based multifunctional catalytic platform for organic transformation and environmental remediation
Dalton Trans. 2018, 47, 1488-1497. 
(http://pubs.rsc.org/en/Content/ArticleLanding/2018/DT/C7DT04057A) 

(20) V. Sharma, R. Balaji, A. Kumar, N. Kumari and V. Krishnan 
Bioinspired 3D Surface Enhanced Raman Spectroscopy Substrates for Surface Plasmon Driven Photoxidation Reactions: Role of Catalyst and Substrate in Controlling the Selectivity of Product Formation
ChemCatChem 2018, 10, 975-979.
(http://onlinelibrary.wiley.com/doi/10.1002/cctc.201701616/full) 

(21) S. Kumar, N. L. Reddy, A. Kumar, M. V. Shankar and V. Krishnan 
Two Dimensional N-doped ZnO-Graphitic Carbon Nitride Nanosheets Heterojunctions with Enhanced Photocatalytic Hydrogen Evolution, Intl. J. Hydrogen Ener. 2018, 43, 3988-4002.
(http://www.sciencedirect.com/science/article/pii/S0360319917337849)