Faculty Information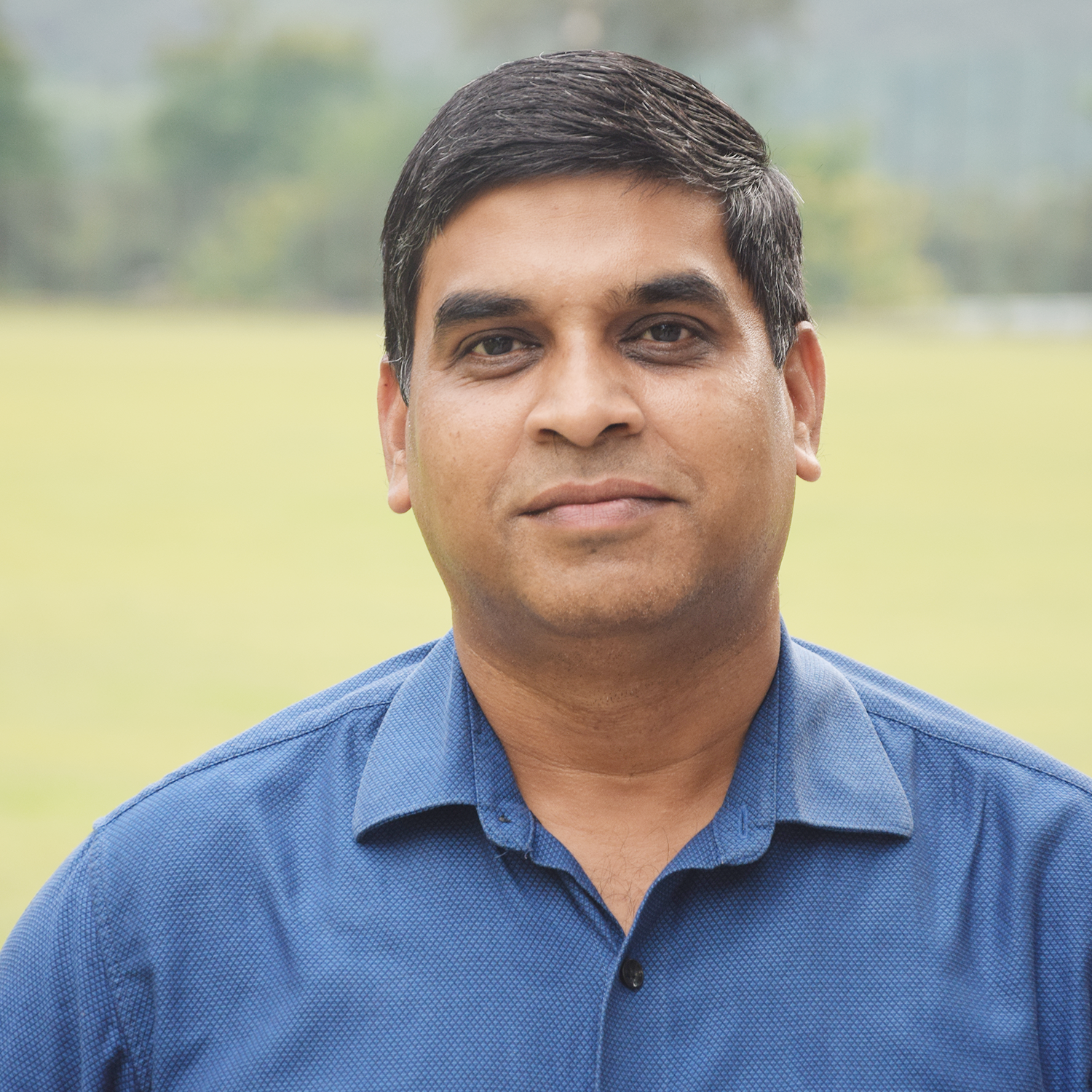 Chayan Kanti Nandi
Professor
School of Chemical Sciences
Personal Information
Professional Experience
Professor, IIT Mandi, (Dec 2020- Till date)
Associate Professor, IIT Mandi (June 2015-Dec 2020)
Assistant Professor, IIT Mandi, (Aug 2010-June 2015)
Postdoctoral Fellow, Princeton University, 2009-2010
Postdoctoral Fellow, Geothe University, 2006-2009
Educational Background
Ph.D., Indian Institute of Technology Kanpur, 2001-2006
M.Sc. (Physical Chemistry) from University of Burdwan, WB, 1998-2000
B. Sc. (Chemistry) from University of Burdwan, WB,1995-1998
Research Area
Broad Area
Physical Chemistry, Spectroscopy, Microscopy
Specific Areas
Spectroscopy and microscopy of nanomaterials
Designing new fluorescent materials for microscopic imaging
Super resolution imaging of cellular cytoskeleton
Fluorescence lifetime imaging microscopy
Stochastic Optical Reconstruction microscopy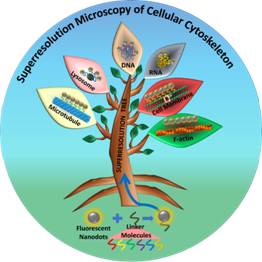 Teaching
CY-701: Advanced Physical Methods in Chemistry (PhD).
CY 512: Quantum Chemistry (M.Sc)
CY 513: Chemical Thermodynamics (M.Sc)
CY 514: Molecular Reaction Dynamics (M.Sc)
CY 511P: Physical Chemistry lab
IC 101: Basic Chemistry (B. Tech)
IC 101P: Chemistry Lab (B Tech)
IC 201: Design Practicum (B. Tech)
CY 511: Spectroscopy and Molecular Symmetry (M.Sc)
CY670: Advanced fluorescence and microscopy (PhD & M.Sc)
Awards, Recognition and Membership
2020 (June): Guest Editor, Frontiers in Chemistry
2019 (July): Chemical Research Society of India (CRSI) bronze medal
2019 (Feb): Best poster award in MRSI-AGM
2018 (June): Visiting Professor, Gottingen University
2017 (sept): Visiting Professor, University of Nottingham.
2017 (Sept): Best Teaching award at IIT Mandi for excellence in Chemistry
2016 (Feb): IIT Mandi Outstanding Faculty for innovative research award
2015 (Sep): DST travel grant awards for conference in Berlin Germany
2015 (Sep): DBT travel grant awards for conference in Berlin Germany
2011 (Dec) : visiting Professor Braunschweig, Germany (by AvH foundation, Germany)
2007-2008: Alexander Von Humboldt Fellow: Geothe University, Frankfurt am Main Germany
2003-2005: Senior Research Fellowship (NET, CSIR, India).
2001-2003: Junior Research Fellowship (NET, CSIR, India).
2001: Graduate Aptitude Test for Engineering India (GATE).
2000: 2nd rank in the M. Sc. Chemistry degree (Burdwan University, WB)
1998: Gold Medal in B. Sc. (Bankura Christian College)
Lifetime members of Materials Research Society of India, 2020
Lifetime members of Electron Microscopy Society of India, 2019
Lifetime Member Chemical Research Society (CRSI) of India 2018
Secretary for "Society for Nanobiotechnology, IIT Mandi (2013)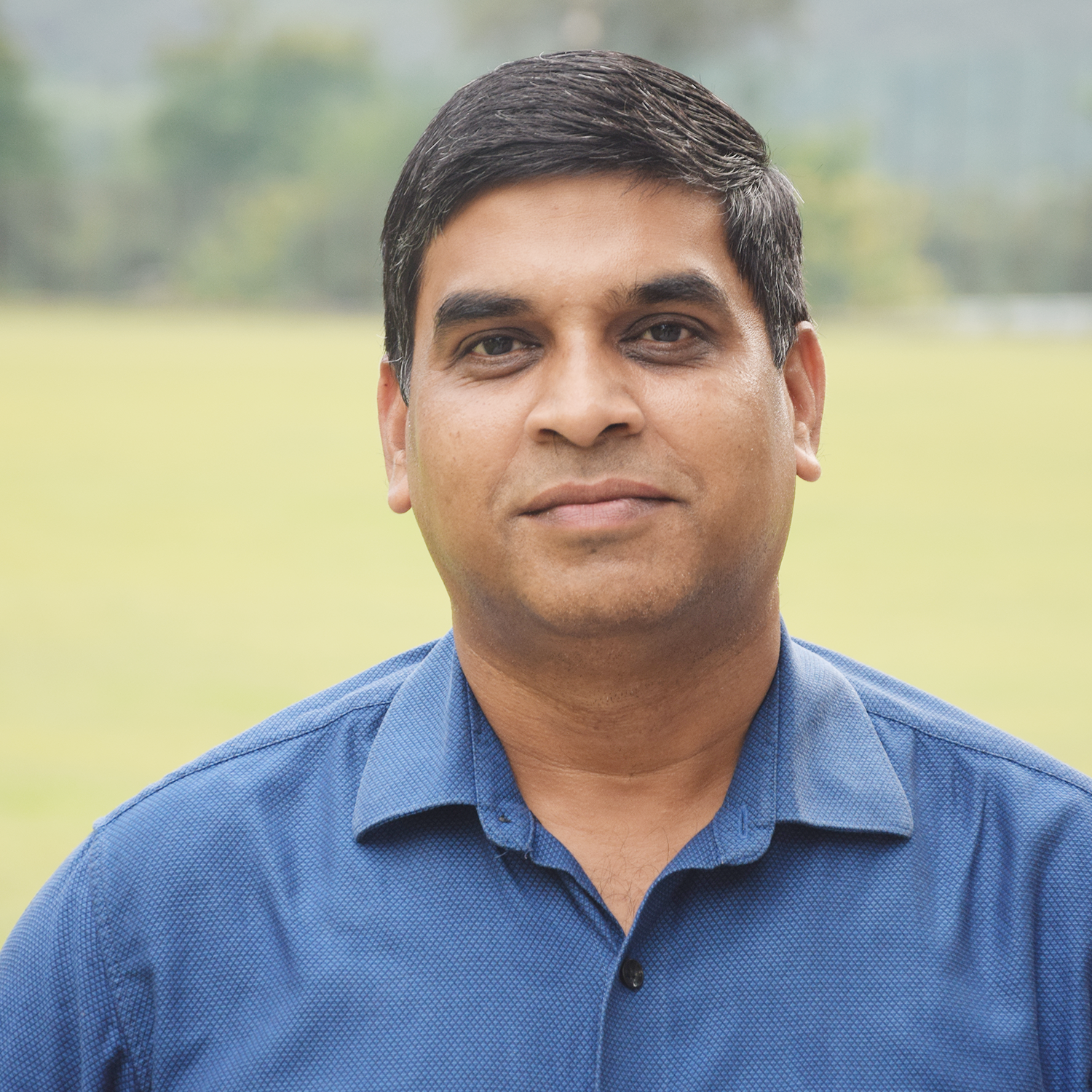 Chayan Kanti Nandi
Research Area
Physical Chemistry
Spectroscopy
Microscopy
Research Interests
We work at the interdisciplinary level to fundamentally understand the photophysical properties, especially the photoluminescence origin of florescent nanoprobes for their successful application in single particle level Stochastic Optical Reconstruction Microscopy (STORM), which is an advanced level optical nanoscopic imaging technique. We have developed custom built STORM set up at IIT Mandi to understand the dynamical cellular events under living condition. Currently, we are developing correlative light and electron microscopy (CLEM), which is the combination of both super resolution light microscopy and electron microscopy. CLEM measured the high resolution optical and electron microscopic image from the same spot thus overcoming the individual shortcoming and provide new information on the unknown cellular events. We design carbon based nanoprobes, gold nanoclusters and iron based magneto-fluorescent nanoprobes with a major focus to make them as universal nanoprobes for multimodal single particle level super resolution imaging.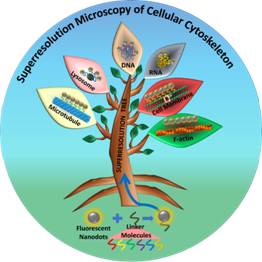 Representive Publications
ACS Materials Letters. 2022, 4, 1565-1573
Biomaterials Science. 2022, 10, 4525-4537
Nanoscale 2022, 14, 3568-3578
Adv. Healthcare Mater. 2022, 2102640
Chem. Sci. 2021, 12, 3615-3626
Nat. Commun. 2019, 10 (1), 2391
Chem. Sci. 2021, 12, 3615-3626
J. Phys. Chem. C 2021, 125 (3), 1637–1653
J. Phys. Chem. Lett. 2020, 11 (14), 5741–5748
Nanoscale 2019, 11 (14), 6561–6565
Chem. Commun. 2020, 56 (88), 13599–13602
Chem. Sci. 2017, 9 (1), 175–180
Nano Lett. 2015, 15 (12), 8300–8305
2022

Kaushik, K.; Yadav, A.; Anjum, F.; Mishra, P. M.; Sharma, S.; Rao, C.; Nandi, C. K. Protein Conjugation helped CdTe Quantum Dots for the Specific Labeling and Super-Resolution Imaging of Lysosomes. ChemNanoMat. 2022. https://doi.org/10.1002/cnma.202200235
Qiu, K.; Yadav, A.; Tian, Z.; Guo, Z.; Shi, D.; Nandi, C. K.; Diao, J. Ultra-Long-Term Super-Resolution Tracking of Lysosomes in Brain Organoids by Near-Infrared Noble Metal Nanoclusters. ACS Materials Letters. 2022, 4, XXX, 1565–1573. https://doi.org/10.1021/acsmaterialslett.2c00436
Mishra, P. M.; Anjum, F.; Uversky, V. N.; Nandi, C. K. SARS-CoV-2 Spike mutations modify the interaction between virus Spike and human ACE2 receptors. Biochemical and Biophysical Research Communications. 2022, 620, 8-14. https://doi.org/10.1016/j.bbrc.2022.06.064
Rao, C.; Sharma, S.; Garg, R.; Anjum, F.; Kaushik, K.; Nandi, C. K. Mapping the Time Dependent DNA Fragmentation caused by doxorubicin Loaded on PEGylated Carbogenic Nanodots using Fluorescence Lifetime Imaging and Super-resolution microscopy. Biomaterials Science. 2022, 10, 4525-4537. https://doi.org/10.1039/D2BM00641C
Yadav, A.; Kaushik, K.; Sharma, S.; Anjum, F.; Nandi, C. K. Near-Infrared-Emitting Ag Nanoclusters as Fluorescent Probes for Super-Resolution Radial Fluctuation Imaging of Lysosomes. ACS Appl. Nano Mater. 2022, 5(7), 9260-9265. https://doi.org/10.1021/acsanm.2c01604
Singh, S.; Rao, C.; Nandi, C. K.; Mukherjee, T. K. Quantum Dot‐Embedded Hybrid Photocatalytic Nanoreactors for Visible‐light Photocatalysis and Dye Degradation. ACS Appl. Nano Mater. 2022, 5 (5), 7427–7439. https://doi.org/10.1021/acsanm.2c01446
Yadav, A.; Rao, C.; Kaushik, K.; Anjum, F.; Sharma, S.; Nandi, C. K. Superparamagnetic Iron Oxides Nanoparticles with Large Magnetic Saturation and High Particle Photon Counts for Super Resolution Imaging of Lysosomes. ACS Appl. Nano Mater. 2022, 5 (3), 4018–4027. https://doi.org/10.1021/acsanm.2c00011
Batra, G.; Sharma, S.; Kaushik, K.; Rao, C.; Kumar, P.; Kumar, K.; Ghosh, S.; Jariwala, D.; Stach, E. A.; Yadav, A.; Nandi, C. K. Structural and Spectroscopic Characterization of Pyrene Derived Carbon Nano Dots: A Single-Particle Level Analysis. Nanoscale 2022, 14, 3568-3578. https://doi.org/10.1039/D1NR07190D
Gupta, S.; Mishra, D. K.; Khan, M. Z.; Saini, V.; Mehta, D.; Kumar, S.; Yadav, A.; Mitra, M.; Rani, P.; Singh, M.; Nandi, C. K.; Das, P.; Ahuja, V.; Nandicoori, V. K.; Bajaj, A. Development of a Highly Specific, Selective, and Sensitive Fluorescent Probe for Detection of Mycobacteria in Human Tissues. Adv. Healthcare Mater. 2022, 2102640. https://doi.org/10.1002/adhm.202102640

2021

Yadav, R.; Yadav, A.; Sharma, S.; Rao, C.; Nandi, C. K. Shedding Light onto the Photoluminesce Origin in Carbon Nanodots Synthesized via Top-down Method. ISRAPS Bulletin 2021, Vol. 33, Issue Number 1. [View]
Mishra, P. M.; Rao, C.; Sarkar, A.; Yadav, A.; Kaushik, K.; Jaiswal, A.; Nandi, C. K. Super Resolution Microscopy Revealed the Lysosomal Expansion during Epigallocatechin Gallate Mediated Apoptosis. Langmuir 2021, 37 (36), 10818–10826. https://doi.org/10.1021/acs.langmuir.1c01742
Mishra, P. M.; Nandi, C. K. Structural Decoding of Small Molecular Inhibitor on the Binding of SARS-CoV-2 to ACE2 Receptor. J. Phys. Chem. B 2021, 125 (30), 8395–8405. https://doi.org/10.1021/acs.jpcb.1c03294
Rao, C.; Patel, S. K.; Prasad, A.; Garg, N.; Nandi, C. K. The Effect of Protein Corona on The Drug Delivery of Carbogenic Nanodots and their Mapping by Fluorescence Lifetime Imaging Microscopy. ACS Appl. Bio Mater. 2021, 4 (7), 5776–5785. https://doi.org/10.1021/acsabm.1c00526
Wang, F.; Yang, X.; Zhan, Q.; Nandi, C. K. Recent Advances in Fluorescent Probes for Super-Resolution Microscopy. Front. Chem., 11 June 2021. https://doi.org/10.3389/fchem.2021.698531
Batra, G.; Sharma, S.; Kaushik, K.; Rao, C.; Kumar, P.; Kumar, K.; Ghosh, S.; Jariwala, D.; Stach, E. A.; Yadav, A.; Nandi, C. K. Structural and Spectroscopic Characterization of Pyrene Derived Carbon Nano Dots: A Single Particle Level Analysis. ChemRxiv. Cambridge: Cambridge Open Engage; 2021 (Pre-Print). https://doi.org/10.33774/chemrxiv-2021-8gl92-v2
Soni, N.; Singh, S.; Sharma, S.; Batra, G.; Kaushik, K.; Rao, C.; Verma, N. C.; Mondal, B.; Yadav, A.; Nandi, C. K. Absorption and Emission of Light in Red Emissive Carbon Nanodots. Chem. Sci. 2021, 12, 3615-3626. https://doi.org/10.1039/d0sc05879c
Verma, N. C.; Yadav, A.; Rao, C.; Mishra, P. M.; Nandi, C. K. Emergence of Carbon Nanodots as a Probe for Super-Resolution Microscopy. J. Phys. Chem. C 2021, 125 (3), 1637–1653. https://doi.org/10.1021/acs.jpcc.0c09695

2020

Yadav, A.; Rao, C.; Nandi, C. K. Fluorescent Probes for Super-Resolution Microscopy of Lysosomes. ACS Omega 2020, 5 (42), 26967–26977. https://doi.org/10.1021/acsomega.0c04018
Tiwari, A.; Verma, N. C.; Turkkan, S.; Debnath, A.; Singh, A.; Draeger, G.; Nandi, C. K.; Randhawa, J. K. Graphitic Carbon Coated Magnetite Nanoparticles for Dual Mode Imaging and Hyperthermia. ACS Appl. Nano Mater. 2020, 3 (1), 896–904. https://doi.org/10.1021/acsanm.9b02501
Kumar, P.; Thakar, K.; Verma, N. C.; Biswas, J.; Maeda, T.; Roy, A.; Kaneko, K.; Nandi, C. K.; Lodha, S.; Balakrishnan, V. Polymorphic In-Plane Heterostructures of Monolayer WS2 for Light-Triggered Field-Effect Transistors. ACS Appl. Nano Mater. 2020, 3 (4), 3750–3759. https://doi.org/10.1021/acsanm.0c00027
Mani Mishra, P.; Uversky, V. N.; Nandi, C. K. Serum Albumin-Mediated Strategy for the Effective Targeting of SARS-CoV-2. Med. Hypotheses 2020, 140, 109790. https://doi.org/10.1016/j.mehy.2020.109790
Yadav, A.; Rao, C.; Verma, N. C.; Mishra, P. M.; Nandi, C. K. Magnetofluorescent Nanoprobe for Multimodal and Multicolor Bioimaging. Mol. Imaging 2020, 19, 153601212096947. https://doi.org/10.1177/1536012120969477
Rao, C.; Mishra, P. M.; Yadav, A.; Nandi, C. K. Cancer Cell Membrane Technology for Cancer Therapy. ChemNanoMat 2020, 6 (12), 1712–1729. https://doi.org/10.1002/cnma.202000482
Yadav, A.; Verma, N. C.; Rao, C.; Mishra, P. M.; Jaiswal, A.; Nandi, C. K. Bovine Serum Albumin-Conjugated Red Emissive Gold Nanocluster as a Fluorescent Nanoprobe for Super-Resolution Microscopy. J. Phys. Chem. Lett. 2020, 11 (14), 5741–5748. https://doi.org/10.1021/acs.jpclett.0c01354
Rao, C.; Yadav, A.; Kaur, R.; Prasad, A.; Nandi, C. K. Direct Visualization of the Protein Corona Using Carbon Nanodots as a Specific Contrasting Agent. Chem. Commun. 2020, 56 (88), 13599–13602. https://doi.org/10.1039/d0cc06333a

2019

Rao, C.; Singh, A.; Verma, N. C.; Garg, N.; Nandi, C. K. One Pot Synthesis of Amphiphilic Carbogenic Fluorescent Nanodots for Bioimaging. ChemNanoMat 2019, 5 (4), 417–421. https://doi.org/10.1002/cnma.201800663
Butkevich, E.; Verma, N. C.; Oleksiievets, N.; Gregor, I.; Schmidt, C. F.; Enderlein, J.; Nandi, C. K.; Chizhik, A. I. Carbon Dots for Studying Muscle Architecture. ACS Appl. Nano Mater. 2019, 2 (12), 7466–7472. https://doi.org/10.1021/acsanm.9b01815
Rao, C.; Verma, N. C.; Nandi, C. K. Unveiling the Hydrogen Bonding Network of Intracellular Water by Fluorescence Lifetime Imaging Microscopy. J. Phys. Chem. C 2019, 123 (4), 2673–2677. https://doi.org/10.1021/acs.jpcc.8b12439
Tiwari, A.; Verma, N. C.; Randhawa, J. K.; Nandi, C. K. Real-Time Observation of Magnetic Field-Induced Fluorescence Engineering in SPIONs. J. Phys. Chem. C 2019, 123 (45), 27759–27764. https://doi.org/10.1021/acs.jpcc.9b07261
Verma, N. C.; Rao, C.; Singh, A.; Garg, N.; Nandi, C. K. Dual Responsive Specifically Labelled Carbogenic Fluorescent Nanodots for Super Resolution and Electron Microscopy. Nanoscale 2019, 11 (14), 6561–6565. https://doi.org/10.1039/c9nr00457b
Verma, N. C.; Yadav, A.; Nandi, C. K. Paving the Path to the Future of Carbogenic Nanodots. Nat. Commun. 2019, 10 (1), 2391. https://doi.org/10.1038/s41467-019-10394-8

2018

Khan, S.; Verma, N. C.; Chethana; Nandi, C. K. Carbon Dots for Single-Molecule Imaging of the Nucleolus. ACS Appl. Nano Mater. 2018, 1 (2), 483–487. https://doi.org/10.1021/acsanm.7b00175
Kumar, P.; Verma, N. C.; Goyal, N.; Biswas, J.; Lodha, S.; Nandi, C. K.; Balakrishnan, V. Phase Engineering of Seamless Heterophase Homojunctions with Co-Existing 3R and 2H Phases in WS2 Monolayers. Nanoscale 2018, 10 (7), 3320–3330. https://doi.org/10.1039/c7nr08303c
Verma, N. C.; Rao, C.; Nandi, C. K. Nitrogen-Doped Biocompatible Carbon Dot as a Fluorescent Probe for STORM Nanoscopy. J. Phys. Chem. C 2018, 122 (8), 4704–4709. https://doi.org/10.1021/acs.jpcc.7b12773
Dwivedi, C.; Chaudhary, A.; Srinivasan, S.; Nandi, C. K. Polymer Stabilized Bimetallic Alloy Nanoparticles: Synthesis and Catalytic Application. Colloids Interface Sci. Commun. 2018, 24, 62–67. https://doi.org/10.1016/j.colcom.2018.04.001
Nandi, C. K. Mechanistic Insight into the Carbon Dots: Protonation Induced Photoluminescence. J Mater. Sci Eng 2018, 7 (3), 448. https://doi.org/10.4172/2169-0022.1000448
Tiwari, A.; Verma, N. C.; Singh, A.; Nandi, C. K.; Randhawa, J. K. Carbon Coated Core-Shell Multifunctional Fluorescent SPIONs. Nanoscale 2018, 10 (22), 10389–10394. https://doi.org/10.1039/c8nr01941j
Khan, S.; Jain, S.; Nandi, C. K. Towards Understanding Citric Acid Derived High Quantum Yield Molecular Fluorophores: From Carbon Dots to Spherical Organic Nanocrystals. J Mater. Sci Eng 2018, 7 (5), 490. https://doi.org/10.4172/2169-0022.1000490